Saturday: Last Weekend in Regular
May 14, 2005

- It was the last weekend in the regular season and many games were played early to accommodate preparations for proms and balls. Pittsford nearly spoiled Penfield's undefeated season for the second year in a row. Schroeder won a big win against Amherst of Section Six and Brighton had a close win with Churchville-Chili. Meanwhile, Hilton and Spencerport combined for 32 goals in their game.


Last year, Penfield had an undefeated regular season until, in the last week of games, Pittsford became the spoiler with a 10-7 win. They nearly did it again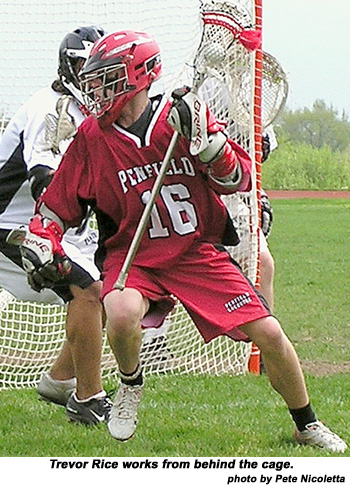 on Saturday, but the Patriots pulled through for an 11-10 win at Pittsford Mendon.

Penfield took a 3-1 lead in the first quarter and led at the half 9-5. In the third quarter they extended their lead to 11-5 before the Panthers came back with 2 goals to start the last quarter with the Patriots up 11-7. Although Penfield had plenty of offensive ball time, Pittsford goalie Chris Jacobs (12 saves) held the Patriots scoreless, while on the other end of the field, the Panthers racked up three goals that created an exciting finish.

Scoring for Penfield were Kelly McKenna (3g-1a), Trevor Rice (2g-3a), and Tim Pfeffer (3g). Jason Knerr scored 2g and Mike Thon added 1g while Mike Arvan had 1g-1a. Brian Dell made 12 saves for Penfield, who remains undefeated at 15-0. The Patriots will finish their regular season on Monday when they travel to Fairport.

Pittsford saw goals from Jake Boyce (1g-6a), Dylan Bittlingmaier (3g) and Justin Rand (2g). Doug Johnson, Matt Petrillo, Joe Pekich and Nate Scott each added one goal for the Panthers (6-8) who have two more games (RH on Monday and Thomas on Tuesday).

No report form Pittsford.




Pal-Mac and Midlakes played to a 2-2 first quarter tie, but the Raiders added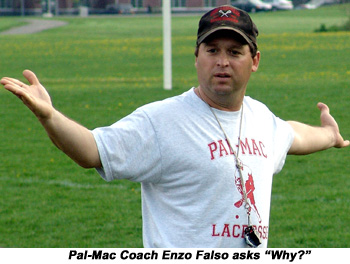 three goals in the second and three more in the third before winning the game 9-4 at home.

Scoring for Pal-Mac were Dave Bennett (3g-1a) and Matt Walker (3g). Jaimie Sinopoli and Matt Christ each had 1g-1a and Owen Campbell added 1g. Ben Dlugosh made 4 saves for the Raiders who end their regular season at 9-6.

Chris ledgerwood scored 2g and Dom Valerio and Nate Stevens each added 1g for Midlakes. Brendon Hennessy recorded 20 saves for the Eagles (1-15) who will play one last game with Newark before Sectionals begin.

No report form Midlakes.




Spencerport wasted no time and scored seven goals in the first quarter to take a 7-2 first quarter lead. Hilton came back in the second with four goals and the Rangers took an 8-6 lead into the half time break. Spencerport came back in the third with seven more goals before ending the game with a 19-13 win.

Andy Morgan established a school record with 6g-7a. Rob Stojanov added 4g-3a and Tyler Hintz scored 3g-2a. Pat Decker scored 3g-2a and Steve Difulvio added (3g-3a). Tim Heacock made 11 saves in the goal for Spencerport (7-8) who will have a chance for 500 season when they play their last game before Sectionals at Eastridge on Monday.

Hilton used 11 different players in their offensive effort. Mitch Ritchie was the scoring leader with 3g-2a. Cory Blackburn added 2g-1a, Joe Schlonski scored 1g-2a and James Moss and Andy Ellsworth each added 1g-1a. Jay Clifford scored 2g and Tyler Stiles and Alex Wood scored 1g each. Mike Crumlish, Colin Walker and defenseman Matt Davidson each added one assist for the Cadets. Goalie Aaron Donahey had 24 saves for Hilton (5-10) who will finish their season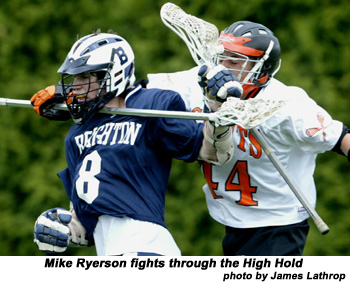 at HFL on Monday.


Brighton was the 7-5 winner at Churchville-Chili on Saturday morning. Brighton led at the half 3-0.

Mike Ryerson led the Baron offense with 4g while Colin Davis scored 1g-2a and James Ryan added 1g-1a. Tim Williams scored one goal and Colin Hickey added an assist for Brighton (13-2) who will host Gates Chili on Monday.

Ryan Grogan (3g) was the scoring leader for the Saints. Ben Rossignolo had 1g-1a while Devin Jessop scored 1g and Cory Mee and Brad Gurbacki added 1a each. Evan Williams had 7 saves for Churchville (5-9)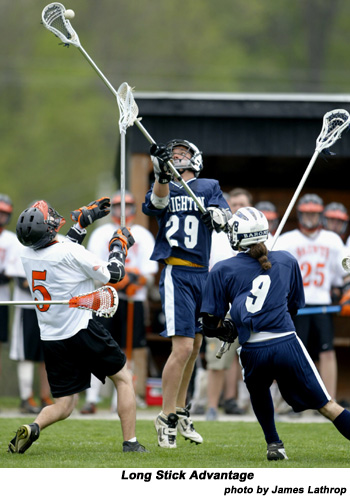 who will travel to Greece for their last game on Monday.

No report from Brighton.




Host Eastridge took a 15-5 halftime lead on its way to a 17-11 win over Greece. seven different Lancers scored including Nick Savine who had a career high 5 goals and Mike Passantino who added 2g. Senior middie Josh Perkins scored his first goal the season. Brody Mapes had 1g-1a and Sean Sawyer had a career best day with 4g-3a. RJ Pixley posted an assist, Kevin Kimber added 3g and Brian Sutton added to to his team best 38 points with 1g-3a. Mike Matteo had 6 saves and Alton Burke 4 saves for the Lancers.

Sophomore attackman Matthew Machucki scored 3g-6a for a career high nine points while Joe Hallowell set a career high with 8 points with 7g-1a for Greece. Jason Wolck, Nick Kulzer and Craig Cercone all made the scorebook for the Thunder. Orlando Villegas had 4 saves and Craig Cercone had 2 saves for Greece.


Penn Yan took a 1-0 first quarter and a 3-0 half before beating visiting Victor 6-1. Steven Carlson (1g-2a) and Jon Van Houten (2g-1a ) led the scoring for the Mustangs. Dan Mesler scored 2g, Dan Wolfe scored 1g and Dan McGuffie and Mark Kratochvil each added 1a. RJ Wickham had 9 saves for the Mustangs (11-6) and was credited with a number of critical saves.

Eric Willman scored Victor's goal on an assist from Kyle Sullivan. Matt Schmelzlen recorded 11 saves for Victor. Blue Devil Head Coach Mark Foeder was pleased with the Victor game. "This was by far our best defensive effort this year. We held one of the best teams in New York State to 3 goals for 42 minutes. I am very pleased with our effort today." Victor drops to 9-7 and will play Canandaigua on Monday.


Webster Schroeder faced another state ranked team in the Amherst Tigers (Section Six) who are ranked 9th in Class B. The Warriors won 6-2.

The game was mostly a defensive struggle with great efforts by both goalies.
Ther Schroeder defense was led by Matt Crandal, Mark Liberti, Drew Palmer,
Jeremy Appell and Jason Cirulli, and backed up by junior Goalie Dennis
Costanza.

Schroeder was assesed a 3 minute stick penalty to begin the 4th quarter, but
only allowed one man down goal. Schroeder was man down for seven minutes of the game but allowed only one man down goal.

Scoring for the Warriors were Jack Mooney (3g), Grant Catalino (2g_1a), Mike Catalino (1g-1a) while Tom Costanza and Chris Ferry each added a assist. Dennis
Costanza finsihed with 9 saves for Schroeder (9-6) who travel cross town to Thomas on Monday for the last game of the regular season.


Hamburg of Section six was the 16-2 winner over Bath-Haverling in their last game of the regular season. The bUlldogs took a 5-1 first quarter lead and ended the half up 7-2. In the second half Hamburg held the Rams scoreless while added nine more.

Leading the offense for the Bulldogs were Joe Resetarits (4g-2a), Mike Ellwood (2g-3a) and Jerry Feurstein (4g). Sam Smolarek and Scott Newton each added 2g. Andy Herrmann and Kevin McHenry each had 1g and Pat DiMatteo added an assist. Ross Warhol made 3 saves for Hamburg (14-1) whose only loss this season was to Webster Schroeder.

Bath's goals were by defenseman Alex Durham and attackman Ryan Finney. Liam Glover added 1a for the Rams who finish their regular season at 4-13.


Rush-Henrietta came away with a hard fought 9-6 victory at Saunders field in Livonia. It was Senior Day and obvious from the start of the game the Bulldog seniors wanted to out as winners. "Our effort on the field today was outstanding," stated at proud coach Sciera after the game. "Regardless of the out come of the game our kids are winners. They always put their best effort on the field every game."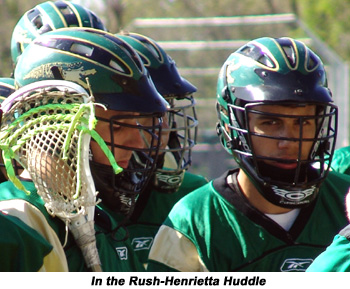 The game was a close one all of the way with both teams taking lead at one point or another through three quarters of play. R-H took the early lead on an unassisted goal from Justin Rose. Livonia's Chadd Britton and Shawn Wright scored the next two goals to give Livonia a one goals lead. Brian McShea's then scored an unassisted goal to tie the score at two. Britton struck again before the close of the first quarter assisting Luke Merritt's goal for a 3-2 Livonia lead at the end of the first quarter.

R-H's defense took control in the second quarter allowing Livonia only one goal while coming back with three of their own to take a 5-4 lead at the half. Brian McShea scored a goal and added two assists for R-H. Josh Hendrickson scored Livonia's lone goal of the second quarter.

Livonia rallied to take a 6-5 lead in the third quarter on goals by Wright and Britton. Rose scored another unassisted goal for the comets to even the score at 6 going into the 4th quarter.

Livonia was assessed a three minute non releasable Illegal stick penalty at the top of the last quarter. Livonia's man down team was up to the task stopping R-H's extra man unit several times before the Comets scored on John Gause's goal. R-H promptly followed Gause's goal up with two more by Rose and McShea to take the win.

The Bulldogs finish their regular season at 7-9 while the Royal Comets move to 5-10 while waiting to travel to Pittsford on Monday.

No report from R-H.