Thursday: Goin' Down to the Wire
May 12, 2005

- Rush-Henrietta wins in overtime, Fairport's comes back in the second half to beat Pittsford and Penfield remains undefeated.


Penn Yan scored five goals in the first and nine more in the second quarter on the way to a 18-0 shutout at Pal-Mac. The Mustangs won 17 of 20 face offs and out shot the Raiders 50-5.

"Penn Yan was awesome in every facet of the game. They definitely showed us why they're a state power," complimented Pal-Mac Head Coach Enzo Falso.

Nine different players scored for the Mustangs including Steven Carlson (2g-1a), Dan McGuffie (5g-5a), sophomore middie Dan Wolf (2g-1a), Dan Mesler (2g), Jon Van Houten (1g-5a) and Ben Odell (3g). Kyle Jensen, Michael Manley and Mark Kratochvil each added a goal. R.J. Wickham made 2 saves and Adam Galusha made 1 save for Penn Yan (10-6).

Ben Dlugosh made 17 saves for Pal-Mac (8-9).


Pittsford visited Fairport and it was a game of two halves. Pittsford scored three goals in the first quarter, allowed only one goal from Fairport in the first half and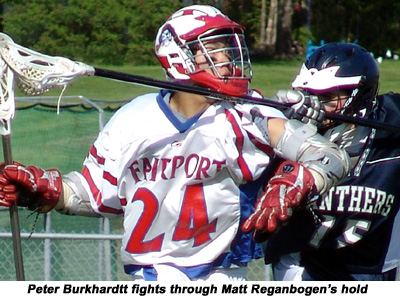 took the half time break up 3-1. In the third quarter, the Red Raiders shut out the Panthers while scoring seven of their own to lead after three quarters, 8-3. Pittsford scored the only two goals of the last quarter and the game ended with Fairport the winner 8-5.

Pittsford dominated the offensive end of the field in the first quarter. Mike Peacock scored first on a drive from the font of the cage at 8:53. Thirty seconds later Justin Rand scored on a drive from behind the cage and at 0:59, Peacock scored again, this time in man up on a feed form Jamie Moran. Pittsford led 3-0 at the end of the quarter.

Ryan Lowe scored an unassisted goal at 9:44 for Fairport and it was the only goal of the quarter. Pittsford led at the half, 3-1.

Whatever Mike Torrelli and the rest of the Fairport team said at halftime seemed to work as Anthony DiMarsico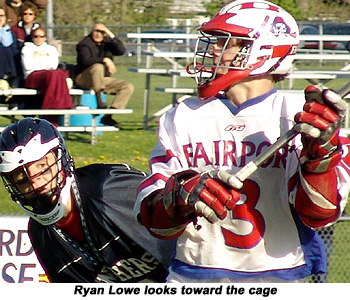 scored just 13 seconds into the third quarter on a feed from Chris Lindner. DiMarsico scored again at 9:13 to tie the score. Lowe scored two unassisted goals, the first at 7:57 and the second at 6:23. Mike Danylyshyn scored at 4:07 with an assist from Pat Reilly. Lowe scored the fourth goal of the game (unassisted) at 3:01. All four goals came from drives from out front. Reilly scored Fairport's seventh goal of the quarter, which would become the last goal for the Red Raiders (assisted by Lowe). All seven goals were scored in ten and a half minutes.

Pittsford came back in the last quarter, controlling more offensive ball time and keeping Fairport away from the goal. Moran scored for Pittsford at 4:59 with an assist from Rand and Peacock scored the last goal of the game at 2:15 (assisted by Dylan Bittlingmaier).

Great defense was played at both ends of the field, led by excellent goalie performances by Fairport's Geoff Mayor and Pittsford's Chris Jacobs.


In another Finger Lakes shutout, Victor was the winner over visiting Midlakes, 12-0 after a 6-0 first quarter and 11-0 at the half. Eight different players made the scorebook for Victor including Cory Benulis (4g-5a), Jason Houtenbrink (1g-2a),
Tom Rogemoser (2g) and Mike O'Hare (1g-1a). Also scoring were Trevor Topian (1g-1a) and Erick Rogemoser, Eric Willman and Stephen Personale who each added 1g for the Blue Devils. Matt Schmelzlen (2 saves) and Max Wade (1 save) split time in the goal for Victor (9-6).

Brendan Hennessy recorded 12 saves for Midlakes (1-14).


Gates Chili was the 8-6 winner over the Thunder in MC-2 division play at Greece. Sophomore attackman Andy Hilton scored the game winner with 7 minutes to go on a nice pass from Dave Street who ended the game with 4a. Ricky Tator and Hilton each scored 2g-1a, Andy McEntee scored 2g and Kyle Beikirch added 1g. Chaz Giehl scored 1g and won 10 of 14 face offs for Gates. Dave Bellaivia had 11 saves for the Spartans (4-11).

The scoring for Greece came from Matthew Machucki (3g-1a), Dave Rodriguez (1g-2a) and Mike Kemp (2g) while Kevin Peterson and Cody List each added an assist. Orlando Villegas made 12 saves for the Thunder (3-11).
It was Honeoye Falls-Lima again in the winner circle with a 13-2 league win over Churchville-Chili as the Cougars used six players on the scorebook. David Uzialko (5g-1a), Mike Cintineo (5g-3a) and Jeff Price (2g-2a) led the way, while Connor Burgasser scored 1g and Cade Norris and John Cintineo added assists. Mike Brisbane (7 saves) and Will Fargo (1 save) shared goal time for the Cougars (14-1). The Saints drop to 5-8. No report from Churchville-Chili.


Penfield took a 2-1 first quarter lead and improved to finished the first half up 5-2 on their way to a 10-6 win over host Irondequoit under the new lights Thursday night. Penfield's defensive unit that included Luke Prattico, Matt Darneider, and goalie Brian Dell (14 saves) played an important role in the win. LSM Evander Wilson had ten ground balls for the Patriots who have lost only one regular season game in the last two seasons.

Penfield's points came from Mike Thon (2g-1a), Tim Pfeffer (3g-2a ) and Trevor Rice (2g-1a). Mike Arvan Jason Knerr each added 1g while Kelly McKenna scored 1g-2a. Brian Dell made 11 saves for the Patriots (14-0).

Scoring for the Eagles were Mickey Haight (2g) and Joe Parker (1g-2a) while Derek Pino, Aaron Bottazzo and Kevin Coholan each added 1g and Kyle Byron added 1a. Zach Nash (14 saves) and Dylan Crary (2 saves) shared time in the goal for Irondequoit (9-7).


Rush Henrietta was the 12-11 winner in overtime as they beat host Webster Thoams on Thursday afternoon. R-H was the leader after one quarter, 3-2 and led at the half 7-6. Dom Scalzo tied the game for Thomas with 0:48 left left in regulation and Tony Henriquez scored the game winner at 1:47 in the second overtime period.

Thomas opened the scoring with Dom Scalzo scoring an unassisted goal at 10:46. Kevin Kemp added the second of the quarter at 8:59 to give Thomas the early 2-0 lead. R-H came back as senior middie John Gause scored (unassisted) at 6:03 and senior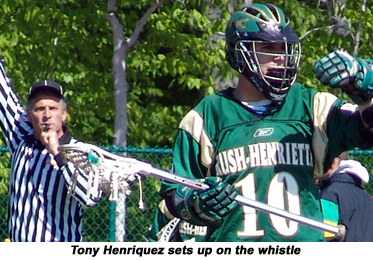 attackman Brain McShea scored at 2:12 (assisted by Matt Moran). McShea scored again with 1:29 remaining to give R-H its' first lead at 3-2 to end the quarter.

Thomas scored early in the second quarter when Scalzo hit at 11:38 with an assist from Max Gurowski. The Titans scored again at 10:02. This time it was Alan Luwish with an assist from Kemp. Thomas took the brief lead before junior middie Tony Henriquez scored on an assist from Phil Gordon at 6:20 tying the score at four. R-H went on a two goal spurt with goals from McShea with an assist from Sam Hillmon and from sophomore middie Justin Rose (unassisted) at 5:22 in the half. Thomas responded at 4:59 when Kemp scored (assisted by Brendan Rothfuss). RH countered 29 seconds later when Moran scored on a feed from Rose. Thomas ended the half with a goal from Kemp at :02 on a pass from defenseman Mark Schuber. RH lead 7-6 at the half.

The Royal Comets scored first in the third when Hillmon scored unassisted at 11:19. Thomas' Nick Berkamps scored on a feed from Scalzo at 7:30 to get the Titans back to within one. Thomas added their second goal of the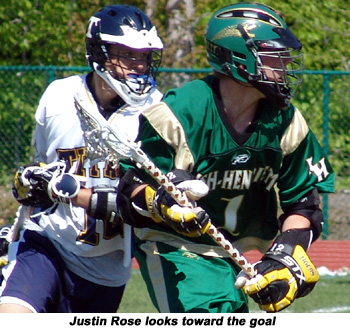 quarter at 1:35 when Luwish scored on an assist from Rothfuss. This tied the score at eight going into the fourth quarter.

R-H continued to have success on face-offs as junior middie Tony Henriquez (14/20) and sophomore Justin Rose (5/5) controlled things early. Rose started the scoring for the Royal Comets in the fourth at 11:25. Henriquez scored his second of the game at 9:45 (assisted by Moran). McShea got back in the scoring column at 7:18 to give RH its' biggest lead of three at 11-8. Thomas struck back when Kurt DetWiller scored unassisted at 6:08 to cut the lead back to two. Luwish added his third goal of the game at 3:42 to make it a one goal game. Scalzo chipped in with his third and biggest goal of the game with 48 seconds remaining to tie the game at 11 at the end of regulation.

The first overtime saw RH continue to have success on face-offs and controlled the ball while getting good scoring looks, but Thomas goalie Steven Hondorf made some great saves to keep the game alive. Thomas was able to make a clear late in the first overtime and it appeared that Scalzo would break free for a one on one with sophomore goalie Matt McShea, when McShea came out of net to break up the pass.

RH gained control of the ball in the second OT and patiently worked the ball for good shots. Once again Hondorf made key saves during the flourish. With under two minutes in the second over time period Matt Moran drove from behind the goal and found junior middie Tony Henriquez on the right side where he caught the pass and face dodged his defender to get a one on one with Hondorf. Henriquez fired a shot at 1:47 into the upper right corner giving R-H the 12-11 overtime win.

Brian McShea lead R-H with 4g, Henriquez added 3g-1a, Rose scored 2g-2a. Moran scored 1g-4a for the Royal Comets (4-10).

Thomas was lead by Scalzo, Kemp and Luwish who each scored 3g.
After the game Coach Mike Gottko commented: "This win is a huge lift for our program. We have been in some tight games over the last week and finally being able to come out with a hard fought victory gives our kids something to feel good about. Both teams played hard and didn't give an inch."

Thomas moves to 5-9. No report form Thomas.


On Senior night, Waterloo beat Mynderse 14-4 at home as twelve seniors were recognized in a pre-game ceremony. Scoring for the Indians (12-6), were Shawn Dunphy (1g), Gordy Lahr (2g-1a), Winston Boyd (4g-2a), TJ Radka (4g-1a) and Josh Mateo (1g-2a). Also scoring were Andy Riegel and Jason Johnson with 1g each and Matt Kaiser with 2a and Bill Jolly with 1a. Pat DeBolt had 6 saves and Matt Lilly had 1 save for Waterloo, who will be waiting until Sectionals for their next game.


Hilton came out strong taking a 4-0 lead and continued to lead throughout the game as they won 10-5 over visiting Eastridge. The game featured a well executed defensive game by senior Matt Faulks, freshman Matt Davidson, junior Jeff Bird and sophomore Eli Towner and Pat Noble. Sophomore goalies Aaron Donahey recorded 18 saves for the Cadets.

Mitch Ritchie (3g-2a) and Tyler Stiles (2g) led the scoring for Hilton. Cory Blackburn, Brett Bridges and Joe Schlonski each added 1g-1a while Jay Clifford and Mike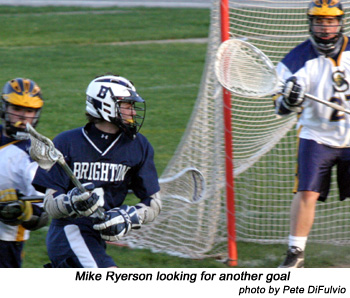 Crumlish each added an assist for the Cadets (5-9). Eastridge drops to 4-10. No report from Eastridge.


It was Brighton over host Spencerport 14-7 as Mike Ryerson scored 6g-1a and James Ryan added 2g-5a for Brighton (12-2) who led 5-1 after the first quarter and 10-2 at the half.

Scoring for Spencerport (6-8) were Rob Stojanov with 4g-1a, Pat Decker with 3g and Tyler Hintz and Andy Morgan each with 2a. No report from Brighton.


Canandaigua won a Finger Lakes game against visiting Newark with a 17-6 score. Dan Groot (4g-4a), Kyle Wakefield (3g) and Tyler Emory (3g-3a) led the Braves' scoring along with Bryan Hadsell (3a) and AJ Groot (1a) while Aaron Manzer, Nick Boylan and Eric Klein who each added a goal for Canandaigua (14-1).

Newark's scoring came from Dan Mizro and Kyle Burm with 2g each and Alex Quku (1g-2a), Greg MacBride (2a) and Jason Johnson (1g ). Josh Putman (up from Junior Varsity) made 8 saves in his first varsity game for the Reds (2-15). Score only from Canandaigua.