Tuesday: One Week Left
May 10, 2005

- Fairport won another close one, this time against Rush-Henrietta, Geneva was the winner against Victor, Spencerport won a close one against Churchville-Chili and McQuaid Jesuit won their last GRALL contest, making them Co-Champions with Aquinas. Schroeder took a win from Irondequoit and five other games were played today.


The game was on our weekly watch list, and turned out to be an exciting one,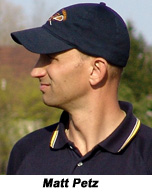 as two excellent Class A teams played to the delight of lacrosse fans. Tonight, the winner was Webster Schroeder over visiting Irondequoit with a score of 11-6.

The game was close for the first three quarters of the game, and neither team could take more than a one goal advantage. In the 4th quarter Irondequoit scored first to tie the score at six each. With 9:21 to go in the game, Tom Costanza scored on an assist from Grant Catalino to put Webster up for good. Webster then scored four more goals including three goals in last 2:12 of the game (2g by Jack Mooney, and 1g by Costanza). The Schroeder defensive unit of Matt Crandall , Mark Liberti, Drew Palmer, Jeremy Appell and Jason Cirulli all played will in front of Dennis Costanza who made 18 saves for the Warriors.

Senior middie Mike Catalino ended the game with 2g-1a, won 15 of 21 faceoffs and led the team in ground balls with ten. Leading the scoring effort for Schroeder were Tom Costanza (2g-3a ) along with Grant Catalino and Chris Ferry who each scored 2g-2a. Jack Mooney added 2g-1a and Jay Wilmes and Mike Catalino each scored 1g for the Warriors (8-6).

Scoring for Irondequoit were Zack Pixley (2g) and Derek Pino and Mickey Haight with 1g-1a. Cory Bottiglier and Kevin Coholan each added a goal and sophomore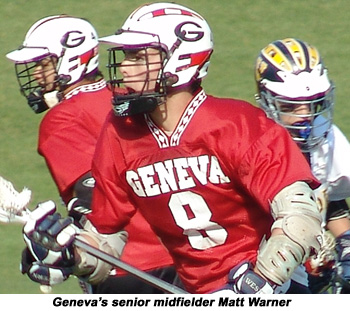 attackman Andrew Hart added an assist. Zach Nash made 10 saves for the Eagles who drop to 9-6.


Geneva wasted no time, taking a 6-2 first quarter and 11-3 half time lead to a 19-10 win over host Victor.

Senior attackman Mike Toner led the offensive effort for Geneva with 7g-2a while Matt Warner added 2g-7a. Chris Toner scored 3g-1a and Carson Poole added 1g-1a. RJ Gringeri, Henry Heaton, Jake Queener, John Warner, Adam Stewart and Matt Elkins each added a goal and John Manion added an assist. Adam Schutz made 11 saves for Geneva (9-6).

Scoring for Victor were Cory Benulis and Erick Rogemoser with 2g. Jason Houtenbrink, Kyle Sullivan, Mike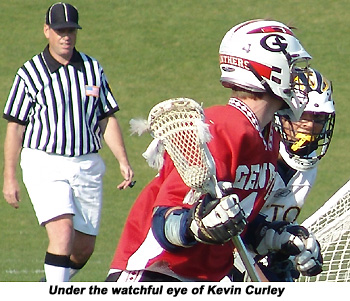 O'Hare and Eric Willman each added 1g-1a. Andy Kicera, Stephen Personale and Adam Stewart each added a goal. Matt Schmelzlen made 7 saves for Victor (8-6).


Brighton continues to rack up the points with a strong attack as James Ryan scored 3g and added 7a for the Barons won a 13-5 game against the visiting Greece Thunder. Brighton took a 4-1 first quarter and an 8-2 halftime lead and out shot Greece 53-34.

Scoring for Brighton were Ryan (3g-7a), Colin Davis and Colin Hickey (4g each) and Robbie Asselin (2g-2a). Mike Katz (7s) and Noah Berg (3s) split the goal tending duties for the Barons (11-2).

Greece saw scoring from Dave Rodriguez (3g-1a), Matthew Machucki (1g-3a) and middie Jeremy Fitzgerald (1g). Orlando Villegas recorded 20 saves for the Thunder (3-10).


Nine different players made the scorebook as McQuaid Jesuit finished it's GRALL games with a 14-5 win over host Bath. The Knights took an early lead with a 3-0 first quarter and 10-3 halftime lead. The win gives McQuaid Jesuit a tie with Aquinas for the GRALL Championship with each team beating the other once.

Scoring for the Knights were Tyler Rubino (4g-2a), Scott Rubino (3g), Evan Gallina (2g) and Andrew Foster (1g-2a). Senior attackman Brendan Clar and senior middie
Kevin Dacey each added 1g-1a, junior middie Sean Conroy added 1g and Mark Hanna added an assist. Junior midfielder Carmen Rondash scored his first varsity goal for McQuaid Jesuit (8-8).

Bath saw scoring from Ryan Finney and Jeremy Sutfin with 2g each and McKenzie Durham with 1g-1a. Zac Conrad and Richie Zajac each added 1g for the Rams (4-11).


The first quarter was exciting for Rush-Henrietta as they earned a 3-2 lead. Fairport came back before the half with five goals before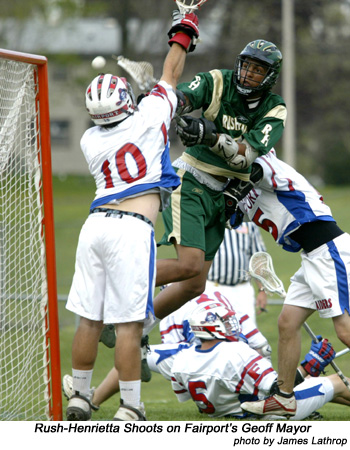 the Comets scored two more. Fairport was ahead 8-4 at the half time break.

In the first quarter R-H attackman Brian McShea scored 2g and sophomore middie Justin Rose scored the third. Matt Moran assisted on McShea's second goal which was a very pretty behind the back shot with 1:47 remaining in the first. Fairport saw goals from Brian Sanna and Ryan Lowe who scored his first of six of the day with the assist from Pat Reilly.

The second quarter saw Fairport score the first five goals before RH scored with 4:17 left. Fairport added one more at 1:42 to take the 8-4 lead. Scoring for Fairport were Mike Danylyshyn with 2g, Lowe added two more to his total, with Pete Burkhardtt and Brian Sanna each scoring 1g. RH's lone goal was an unassisted goals by senior attackman Sam Hillmon.

The Red Raiders controlled the offensive ball for much of the third. They saw 2g from Lowe and one from Brian Lindner. Assists went to Brian Sanna and Tom Rynn. RH scored with 0:18 left when Hillmon scored on an assist from Matt Moran. Fairport took an 11-5 lead heading into the fourth.

Rush-Henrietta came out hungry and determined at the start the last quarter. Goals came from junior middie Tony Henriquez at 10:10, Hillmon completed his hat trick at 8:51, and senior middie Phil Gordon added another at 7:04.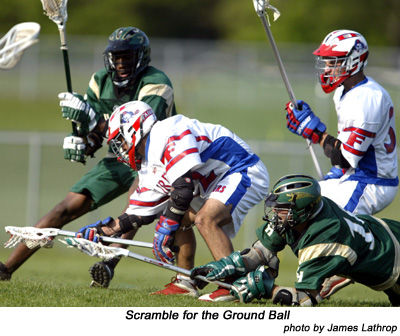 This cut the Fairport lead to 11-8 with 5:00 minutes remaining. Fairport responded with a goal from Danylyshyn (assisted by Reilly) to bring their lead back to four. RH continued to play catch up with their fourth goal in the quarter scored by sophomore middie Justin Rose (unassisted) at the 3:16 mark. The Royal Comets made their last push when Moran scored (assisted by McShea). This cut the lead to 2 with just over three minutes remaining in the game. RH had a great scoring opportunity coming out of a timeout with a little over a minute remaining, but the shot went wide. Fairport gained control and ran out the clock for the win. R-H goalie Matt McShea made 13 saves for the Royal Comets (3-10).

R-H Coach Mike Gottko praised his team. "The coaching staff is extremely proud of the determination the kids displayed in the fourth. It could have been real easy for the kids to let up. It was probably our best quarter of the season on both ends of the field."

By the end of the game Fairport's scoring came from Lowe (6g), Sanna (2g), Danylyshyn (3g), and Lindner (1g). Five players added assists for Fairport, including Reilly (3a), Pete Burkhardtt (3a) and Jake Fricano, Jeff Sanna and Tom Rynn who each added one assist. Geoff Mayor (7s-4ga) and Zach Harris (2s-6ga) split the goal tending duties for Fairport (10-4).


In an evening game at Churchville, it was Spencerport over C-C with an exciting 8-7 victory. Mike Hicks (2g) had the game winner with 6:23 left in the game. The Saints led 3-1 at the end of the first quarter, but the teams were tied at five at the half and at six at the end of three.

Rob Stojanov had 4g, Tyler Hintz had 1g-3a and Pat Decker added 1g-1a for the Rangers. Andy Morgan had (3a). Midfielder Steve Difulvio led Spencerport with 12 ground balls. The Rangers improve to 6-7.

Brad Gurbacki led the offensive effort for Churchville Chili with 4g-2a. The Saints move to 5-7.

No report form C-C.




In another SportsFive game of the week, it was Canandaigua over Penn Yan at Keuka College last night as the Braves took the low scoring 5-3 victory. The game was controlled by the defense at both ends of the field and there were incredible performances by CA's Dan Serafine (10 saves) and Penn Yan's R.J. Wickham (15 saves). Outstanding defense was played by Mike Serron, Ed Walsh, Jay Woodworth,
Ryan Cunningham and short stick middie Charlie Sauter for Canandaigua. Mustang defenders Michael Manley and Tristan Keas were strong for Penn Yan.

The Braves scored the only goal of the first quarter (Brian Hadsell from Tyler Emery).

CA's Todd Anthony scored an unassisted goal in the second, which was followed by two goals in 0:21 by Penn Yan's Dan McGuffie (from Dan Mesler) and Stephen Carlson who picked by a loose ball on the crease. The Braves took the lead back at the 5:18 mark when Kyle Wakefield scored on a pass from Nick Boylan. Less than two minutes later Carlson scored the tying goals with an assist from Jon Van Houten. The half ended at 3-3. The third quarter remained scoreless.

Dan Groot and Wakefield scored in the last quarter to give the Braves the win.

"I thought both defenses played really well," Canandaigua coach John Johnson told the Finger Lakes Times. "Our kids played well, their kids played well, and both goalies came up with some big saves. You would expect a game like this from two good teams."

Scoring by the end of the game for CA were Wakefield (2g), while Hadsell, Groot and Anthony each added a goal and Emery and Boylan each added 1 assist for the Braves (13-1).

Penn Yan's goals came from Carlson (2g) and McGuffie (1g) while Mesler and Van Houten each adding an assist for the Mustangs (9-6).

Gregory G. McNall has a nice piece on the game in the Finger Lakes Times which reprinted the story on their Websites.


It was a shut out for the Honeoye Falls-Lima as they beat Eastridge 14-0 at home on Tuesday night. No report for HF-L.


Gates Chili opened a 5-0 lead in the first quarter but host Hilton returned for a tie at 6 by half time. Gates took the lead for good by the end of the third with a 11-6 score and ended the game with the 14-10 win.

Scoring for the Spartans were Dave Street (6g-3a), Andy Hilton (3g-2a) and Chaz Giehl (3g-1a) who also won 16 of 26 faceoffs. Tom Sudek and Ricky Tatar each added 1g-1a while Gates say assists from Andy McEntee (2a) and Kyle Lynah (1a). Dave Bellaivia recorded 10 saves for the Spartans (3-11)

Scoring for the Cadets were Mitch Ritchie (3g-1a), and Brett Bridges (3g) while Tyler Stiles, Cory Blackburn, Mike Cromlish and Matt Davidson each has 1g and Colin Walker and Andy Ellsworth each added an assist for Hilton (4-9).


Penfield remained undefeated with a 13-3 win over host Webster Thomas. The Patriots scored four unanswered goals in the first and second quarters and led at the half time break 8-0. Penfield's face off specialists Mike Thon, Jason Knerr, Mike Cummins and Connor Rice controlled better than 75% of the draws. The stubborn Penfield defense was lead by Brian Dell with 9 saves. Chris Tateo and Ryan Nicoletta combined for four saves in relief.

Leading scorers for the Patriots were Mike Thon (4g-1a), Mike Arvan (2g-2a),
Jason Knerr (2g) and Tim Pfeffer (1g-2a). Also contributing for Penfield were
brothers Trevor and Connor Rice with 1 goal and 1 assist each and Mike Cummins and Dave Malone with one goal each and Kelly McKenna with an assist.

Dom Scalzo had all three goals for the Titans with two assists from Max
Gurowski and one from Kevin Kemp. Steve Hondorf had 13 saves and Alex
Mossier had 2 saves for the Titans (5-8). No report from Thomas.


It was Waterloo with a 12-0 shutout against Midlakes (1-13) last night at home. Scoring for the Indians were Josh Mateo (2g), Matt Haws (1g-1a), Gordy Lahr (2g-2a), Matt Kaiser (1a) and Bill Jolly (1g). Also scoring were Jason Johnson (1a), TJ Radka (1g-1a), Winston Boyd (2g-1a), Shawn Dunphy (1g-1a), Adam Cottrell (1g), Kyle O'Connors (1g) and Greg Marsh (1a). Pat DeBolt and Matt Lilly each had one save for Waterloo (11-6).