Thursday: HFL, McQuaid Jesuit, Victor, Pittsford
May 5,2005

- The rematch of HF-L and Brighton drew attention tonight and the Cougars again were the victors, but in a closer game than back in early April. McQuaid Jesuit won another game by a single goal, as did Victor in their game with Waterloo. Canandaigua's Head Coach John Johnson won his 350th game. Ten other games were played in Section Five on Thursday.


According to the morning Democrat and Chronicle, Pittsford was the overtime winner over host Irondequoit, 9-8 on Thursday afternoon. Junior middie Mike Peacock scored the tying goal (assisted by Jake Boyce) with 0:03 left in the game and then scored the winning goal in over time. He finished with 5g.

In a game of changing momentum, Pittsford led at the end of the first quarter 3-1, but Irondequoit returned with 5 unanswered goals to close the third up 6-3. The Panthers then scored 4 unanswered goals before the Eagles scored 2g with 3:00 left.

Senior midfielder Cory Bottiglier led the Eagles with 3g. Pittsford improves to 4-5 while Irondequoit drops to 9-5.

We have no other scoring details as there were no reports from Pittsford or Irondequoit.




Canandaigua earned a rare shutout as they won 19-0 over host Mynderse (5-8). Seventeen different players scored for the Braves, with 14 of 19 goals coming from non-starters.


Long time Head Coach John Johnson won his 350th game in the process. [Note: Coach Johnson isn't the only Section Five coach with a celebration, as Penfield coach Mark Rice celebrated his 300th win as a Head Coach earlier in the season. The current Section Five leader is Iorndequoit's John Pratt who started the season with 429.]

Scoring for Canandaigua were Jeremy Brown and Eric Klein with 2g-2a, Tyler Emery and Zack Scheetz with 2g-1a and Kyle Wakefield with 3a . Todd Anthony and James Regan added 2g and Aaron Manzer and Dan Groot ended with 1g-1a. AJ Groot, Brian Hadsell, Tyler Rankin and Chris McWilliams each added a goal while Matt Malloy, Justin Buck and Jeremy Nemecek each added one assist. Dan Serafine played the 1st half and had 2 saves while Billy Thomson played the second half and made 1 save for the Braves (12-1).




It was Spencerport-12 and Greece-9 as the Rangers recover from a 5-game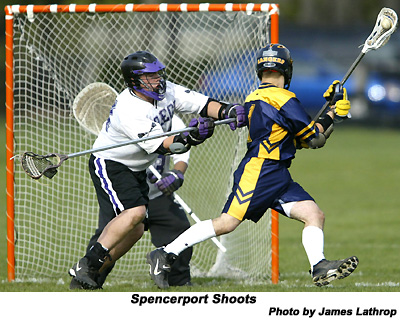 loosing streak to get back on track at Greece. Spencerport took a 4-1 first quarter lead and was up 7-2 at the half time break. The Thunder returned in the second half as both teams scored 3 in the third and Greece took the last quarter 4-2.

Eight different players scored for Spencerport. Scoring for the Rangers were Pat Decker (3g-2a), Andy Morgan (2g-2a), Tyler Hintz (2g) and Rob Stojanov (1g-2a). Justin Linville added (1g-1a) and Mike Hicks, Dave Pels and Stephen DiFulvio each added 1g for the Rangers. Tim Heacock (11s) and Ryan Konko (4s) split the goal tending duties for Spencerport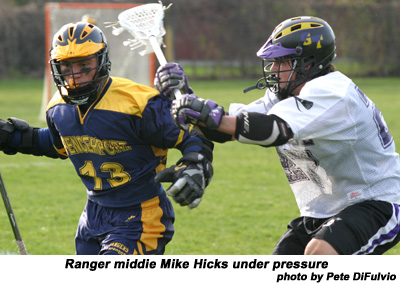 (5-7).

Scoring for the Thunder were Attackmen Dave Rodriguez (2g-1a), Matt Machucki (1g-2a) and Joe Hallowell (2g) and midfielders Mike Kemp (1g), Tad Barker (1g) and Craig Cercone (1a). Scoring their first varsity goals were Kevin Peterson and Jason Wolk. Goalie Orlando Villegas had 14 saves for the Thunder (3-9).


Penn Yan scored eight goals in the second quarter on their way to a 19-4 win over Newark at a game played at Keuka College Thursday night.

Steven Carlson and Dan McGuffie each scored 4g-2a and Dan Mesler added 5g to the lead the Mustangs. Also scoring were Ben Odell (2g), Jon Van Houten (1g-2a), Brandon Trombley (1g-1a) while Mark Kratochvil and Ryan Cook each added a goal. RJ Wickham had 4 saves for Penn Yan (9-4)

Kyle Burm scored 1g-2a for Newark (2-11). No report from Newark.


Fairport was the winner in a close game with Webster Thomas as they won 8-7 at Webster. Eight different Raiders made the scorebook with only Mike Danylyshyn (2g) scoring more than one goal. Pete Burkhardtt scored 1g-2a and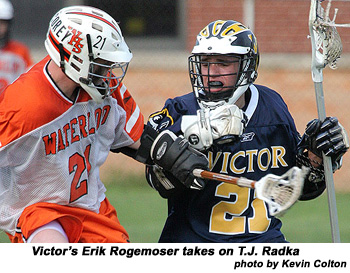 Tom Rynn added (1g-1a) while Anthony Dimarsico, Jeff Sanna, Erik Braun and Chris Lindner each scored 1g for Fairport. Jake Fricano assisted on one goal and Geoff Mayor recorded 11 saves for the Red Raiders who improved their record to 9-4.

There was no information from Thomas (4-7).


Victor and Waterloo played a close and exciting game and it was Victor on top 7-6. Waterloo lead for each of the first three quarters (3-1, 5-4 and 6-5), but the Blue Devils took the last quarter with two unanswered goals, including the last scored by Erick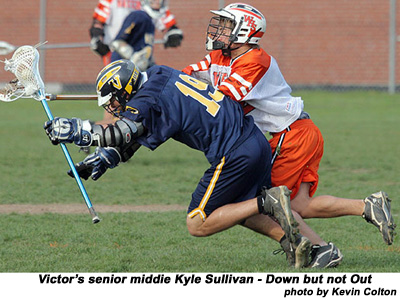 Rogemoser who scored with five minutes left in the game.

Scoring for Victor were Jason Houtenbrink(1g-3a) and Kyle Sullivan and Cory Benulis who each had two goals. Rogemoser finished with (1g-1a) and Jon Hankin added 1g. Matt Schmelzlen had 13 saves for the Blue Devils (8-5).

Waterloo's scoring came from Winston Boyd and Gordy Lahr, each with 1g-1a and Matt Kaiser (2a). Matt Haws scored a goal and Bill Jolly added an assist while Pat Debolt recorded 10 saves for the Indians (9-6).


Geneva beat host Midlakes 14-1 in Finger Lakes action on Thursday afternoon. The Panthers led at the half 11-1 and held Midlakes scoreless then the second half.

Scoring for Geneva were Chris Toner (3g-4a), Mike Toner (3g-2a), RJ Gringeri (2g-1a) and Jake Queener (2g). Also scoring were Carson Poole, Mark Bloom, Jason Roberts and Adam Stewart who each scored a goal while Matt Warner, John Warner and John Manion each recorded an assist. Midlakes goal came from Nate Stevens (assisted by Chris Ledgerwood). Brendan Hennessy has 15 saves for Midlakes (0-12). Geneva moves to 7-6.


In a game that started out closely contested, Eastridge exploded in the third quarter with six goals to take a 9-5 win over Gates Chili. Eastridge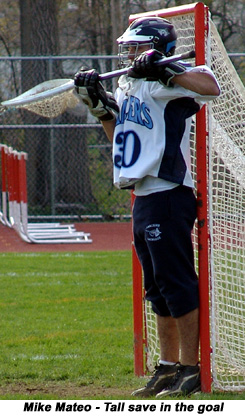 opened with a goal by Mike Passantino (assisted by Kevin Kimber) at 9:38. Gates came back at 8:03 with a goal by Jimmy Drabin (assisted by Andy Hilton). At 6:30, Brody Mapes scored for the Lancers (assisted by Brian Sutton). The first quarter ended with the Lancers up 2-1.

The Spartans came alive in the second quarter with 3 unanswered goals. Drabin scored with an assist from Alex Bazer at 8:34 when the Spartans broke a Lancer clear. Drabin scored an unassisted goal at 0:44 and Dave Street scored in man up at 0:13 with an assist by Andrew McEntee. The half ended with Gates up 4-2.

Coach Jobson was not pleased with the Lancer performance, and used some of the halftime break to run half field drills. The tactic paid off as the Lancers scored six goals while holding the Spartans to one in the third. Nick Savine scored the first goal in the first minute of the third. Less than a minute later Kimber added one (assisted by Savine) and less than a minute later Mapes scored with an assist by Sutton. Mapes scored again at 8:25 (assisted by Sutton). The Lancers scored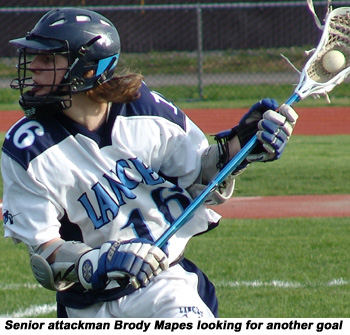 their only goal of the half at 6:22 as Drabin scored again. Eastridge came back again at 5:35 when Sean Sawyer scored (assisted by Sutton) and at 3:23 Kimber scored in man up assisted by Sawyer. The third quarter ended with Eastridge up 8-4.

The last quarter was spent running up and down the field. Mike Mateo who ended the game with 23 saves for the Lancers made numerous saves throughout the game but struggled to find someone who would catch his well placed quick pitches. The only goal was scored by Passantino (again from Kimber) at 1:48.

The Lancers improve to 4-8 while the Spartans drop to 2-10.


McQuaid Jesuit used a run of four goals in the third quarter and hung on to the lead in the fourth quarter to take the 9-8 win over GRALL opponent and host Livonia.

Although losing a close one, Coach Sciera was very enthusiastic about his team's performance, "Any time you can play with an [Class] A school of McQuaid Jesuit's caliber it says something about the integrity of your program. The GRALL league has been extremely competitive; it's a lot of fun to play in."

Scoring for McQuaid Jesuit were Tyler Rubino (3g-1a), Alex Caton (2g-1a) and Sean Conroy (2g). Brendan Clar and Scott Rubino each had a goal. Dan Sturnick had 2 assists. Goalie Pat McGuire had 11 saves for the Knights (6-8).
Livonia saw scoring from Chadd Britton (3g) and Brent Simpson (2g) while Brian Sciera and John Dalaberth each had 1g-1a. Oren Taylor had a goal and Shane Moran had an assist. Junior goal keeper Aaron Jamison made 18 saves for the Bulldogs (6-7).


There was lots of scoring in the HF-L's win over visiting Brighton as the Cougars started with a 4-1 first quarter and 8-4 half before beating Brighton 12-7.

The first quarter started with HF-L scoring two unassisted goals; the first by Tony Mykins and the second by Connor Burgasser. Brighton returned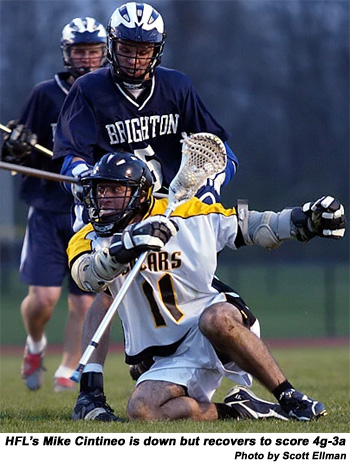 with a goal at 4:44 by Ryan Conti, assisted by Colin Hickey. Less than a minute later the Cougars saw a goal by David Uzialko (assisted by Mike Cintineo). HF-L scored the last goal of the quarter at 2:54 (Cade Noris from Chris Stanton).

The Cougars scored the first three goals of the second quarter including 2 unassisted goals by Cintineo and one by Zane Witzel, assisted by Jeff Price. Brighton then scored three in a row; two by Mike Ryerson (assisted by Conti and Colin Davis) and one by James Ryan assisted by Ryerson. Cintineo scored an unassisted goal with 0:01 left in the half, giving the Cougars an 8-4 lead.

The third quarter started with an unassisted goal by Cintineo at 8:12. After a great deal of transition, Brighton scored at 1:09 with a Ryan from Ryerson combination. At 9:19 Cintineo scored again (unassisted) and the Barons ended the third quarter with a goal by Conti with the feed from Robbie Asselin at 5:31 and with the Cougars up 10-5.

Each team scored two goals in the last quarter. John Cintineo scored at 10:07 on a feed from his brother Mike. Ryerson scored on a feed from Davis at 9:48. Mike Cintineo added another at 9:19 and Conti scored (assisted by Asselin) at 5:31.

HF-L goalie Mike Brisbane made 17 saves including a number of one-on-ones at point blank range. The Cougars move to 12-1 while the Barons move to 10-2 (with both losses from HF-L).


Brad Gurbacki was the head Saint as he scored 3g-7a to lead Churchville-Chili in their win over visiting Hilton 13-10. Gurbacki won 17 of 26 faceoffs, and had 11 ground balls for Churchville-Chili. Also scoring for the Saints were Cory Mee and Ben Rossignolo with 3g-1a each, Devin Jessop (1g-2a), Jaime Englert (2g), and Ryan Grogan (1g). The Saints improve to 5-6.

Scoring for Hilton (4-7) were Mitch Ritchie (4g-2a), Tyler Stiles (3g), Brett Bridges (2g-2a) and Cory Blackburn (1g-1a).


The game was in doubt in the first half as visiting Rush-Henrietta came out fired up, winning face offs and many ground balls, while taking a 2-0 first quarter lead. The Webster Schroeder Warriors, who have been playing the role of giant killers lately, came back in the second quarter and finished the half up 4-2 behind three goals from Tom Costanza.

Rush-Henrietta opened up the scoring in the first with a goal from Tony Henriquez (assisted by Brian McShea). Schroeder responded 34 seconds later with a goal from Costanza (assisted by Grant Catalino) at 9:06. It was the first of Costanza's 5g game. Jack Mooney added another goal at 7:43 to give Schroeder a one goal edge. R-H tied it at two when Matt Moran found Justin Rose for an extra man goal with 3:20 remaining in the first quarter.

The second quarter saw RH score with 4:41 remaining on Henriquez's second goal with an assist from Sam Hillmon. This gave RH a brief lead until Costanza scored 21 seconds later. Schroeder scored with 0:59 seconds remaining to take the 4-3 half time lead.
The Warriors came out in the third with the first two goals at 7:55 by Jack Mooney and then again at 5:02 by Catalino. RH responded with two quick goals; the first from John Gause at 4:43 with an assist from Moran and the second at 4:06. This time it was McShea with the assist again going to Moran. With the momentum swinging toward RH, Schroeder came back with an unassisted goal from Chris Ferry with 3:50 remaining in the third. The play began with a loose ball scramble and then the ball rolled toward the RH goal where it rolled harmlessly under sophomore goalie Matt McShea's stick in the midst of a pile up in front of the net. Schroeder then added the final three goals in the third. Two goals were scored by Costanza and the third came from Ferry at 1:17. Schroeder took the 10-5 lead going into the 4th quarter.

Each team scored two goals in the 4th to make the final 12-7 Schroeder. Scoring for RH in the 4th were McShea and Gause with both assists going to Hillmon. Schroeder's goals were scored by Ferry and Mooney.

Coach Gottko commented: "The first half was a defensive battle with both teams putting pressure on each others' offenses. We were able to withstand Schroeder's push in the third to bring their lead back to one, however the funny goal slipping under Matt McShea's stick turned momentum back to them and from there, they scored 3 in the last 2 minutes. It was tough luck for our kids and the Schroeder players capitalized to finish the quarter with a flurry. Both teams left everything on the field."

Schroeder goalie Dennis Costanza recorded 13 saves for the Warriors (6-6) while the Royal Comets move to 3-9.


Penfield moved to 12-0 with their 15-1 victory under the lights over host Aquinas. Taking advantage of the fact that Aquinas as was playing its third game in as many days, the Patriots jumped to a 6-0 lead at the end of the first quarter and went into half time leading 8-0.

Strong performances by Mike Cummins (2g-1a), Scott Serron (2g), Dave Malone (2a) and Connor Rice (2a) helped secure the win for Penfield. The Patriots' initial charge was lead by Trevor Rice (2g-2a), Mike Thon (3g), and Tim Pfeffer (2g-1a). Jason Knerr, Kelly McKenna, Ben Foster and Mike Smith each added 1 goal. Mike Arvan (1a) and John Butt (1a) also figured in the scoring. Goalies Brian Dell and Chris Tateo combined for 7 saves and Evander Wilson had 6 ground balls for the Patriots.

Aquinas midfielder Pat King scored with an assist by Dave Schmandt. Jason
LaShomb recorded 10 saves for Aquinas (9-6).