Thursday: March Weather - Good Games
April 28, 2005

- There were 13 games held on a very cold and sometimes wet afternoon with a number of close games.


Sophomore midfielder Kevin McCully scored the winner in overtime with an assist from senior middie Tim Ellis as Mynderse beat visiting Newark 13-12. Mynderse led at the half 8-6 but Newark closed the gap to force the the game into overtime.

Leading the scoring for the Blue Devils were senior attackman Andy Zaverella (4g) and Chris Warrick (2g), and senior midfielders Tim Ellis (2g-4a) and Troy Gothem (1g-3a). Kevin McCully finished with 2g-2a. Junior goalie Nick Tiaskkun had 9 saves for Mynderse (4-6).

Newark saw scoring from senior attackman Jason Johnson (2g-1a) and junior attackmen Nate Johnson (1g-2a) and Dan Mizro (2g). Junior middie Alex Quku added 4a while senior middie Kyle Burm scored 3g and junior middie Greg McBride scored 2g-2a. Junior goalie Anthony had Cole 22 saves for the Reds (2-9).

No report from Mynderse.




It was a game that was expected to go right down to the wire and it really was anyone's game, but Rush-Henrietta was the winner, 9-7 against host McQuaid Jesuit on Thursday afternoon.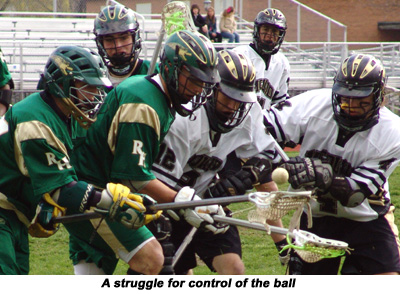 The Knights took an early lead, scoring first at 10:06 when senior middie Ryan Ingalis scored an unassisted goal. R-H came back at 7:07 with a goal by senior midfielder Brian McShea with an assist by sophomore attackman Matt Moran. Just under a minute later the Knights had an unassisted goal from senior middie Scott Rubino who added another at 2:59 and the quarter ended with McQuaid Jesuit up 3-1.

The second quarter belonged to the Comets, outscoring McQuaid Jesuit 3-1. First up was Moran (unassisted) at 11:29. Then McShea scored again assisted this time by Moran. At 6:05,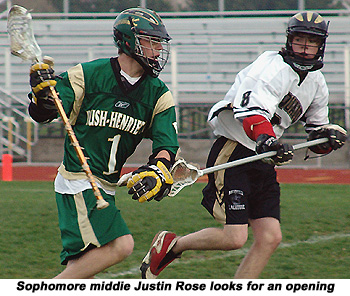 senior middie John Gause scored an unassisted goal for R-H. McQuaid Jesuit scored the last goal of the half at 1:10 when junior attackman Mark Hanna scored (unassisted). The half ended in a 4-4 tie.

R-H took the lead in the third quarter, scoring two while holding the Knights scoreless. Junior middie Tony Henriquez who had a strong day in the face off department scored for the Comets at 7:54 with an feed from Moran. Gause scored just 17 seconds later to end the quarter with the Royal Comets up 6-4.

Each team scored three goals in the last quarter. R-H scored first at 11:46 with a goal by McShea (assisted by Gause). Sophomore middie Justin Rose scored an unassisted goal 0:41 seconds later. McQuaid Jesuit got back on the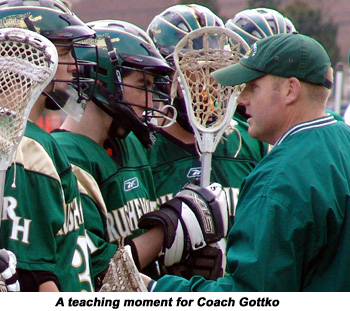 scoreboard at 8:42 when Hanna scored again (unassisted) and in man up. Senior midfielder Kevin Dacey scored an unassisted goal for the Knights less than a minute later. At 2:58 Rubino scored an unassisted goal to take the Knights within one, but after a few trips up and down the field, R-H scored the final goal of the game (junior middie Tim Barth unassisted) with 0:04 left.

McQuaid Jesuit junior defenseman Dan Blackburn who was dramatic in his clearing and takeaways suffered a broken clavicle and will be sidelined for the rest of the season.

Sophomore goalie Matt McShea had 10 saves for the Royal Comets (3-7). McQuaid Jesuit drops to 4-7.


Greece was the eventual winner in a 11-8 game against visiting Eastridge. The teams were tied at 2 at the end of the first quarter and tieds again at 6 at the half.

Greece senior middie Craig Cercone (1g) scored his first goal of the season. Junior attackman Dave Rodrigues (4g 2a) and sophomore middie Matthew Machucki (2g-4a) combined with midfielders Mike Kemp (2g-1a), Jeremy Fitzgerald (1g-1a), Tad Barker (1g-1a) and Nick Kulzer (1a) for the scoring power. Freshman Ryan Grimshaw and senior Jason Wolk came up with some great defensive plays to protect senior goalie Orlando Villegas (15 saves) for the Thunder (3-7).

Senior middie Kevin Kimber led the Lancer offense with 4g-1a. Also scoring for Eastridge were junior middie Sean Sawyer with 3g, senior attackman Brian Sutton with 1g and senior middie Dave Granito with an assist. Senior goalie Mike Matteo made 17 saves on 28 shots for the Lancers (3-6).


Brighton extended its record to 9-1 with a 12-3 victory over visiting Churchville-Chili. The Barons scored first with an unassisted goal by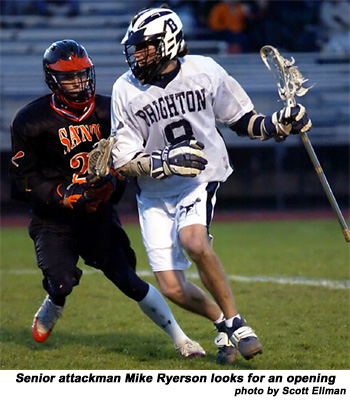 junior attackman Colin Hickey at the 6:53 mark. C-C came back at 5:40 with a goal by sophomore middie Ben Rossignolo. Brighton scored the last two goals of the quarter as senior attackman Mike Ryerson and junior attackman Colin Davis scored unassisted goals to end the quarter with the Barons up 3-1.

Brighton scored two more in the second quarter as junior defenseman Jason Moser and sophomore middie Ryan Conti scored unassisted goals. The half ended with Brighton ahead 5-1.

The Baron saw one goal in the third quarter scored at 7:21 by freshman middie Justin Hillery.

Brighton pounded the Saints in the last quarter as the Barons saw scoring from sophomore middie Ryan Conti (1g), junior attackman Colin Hickey (3g-1a), senior attackman Mike Ryerson (8g-3a) and junior attackman Kyle Warren. Churchville's goals came from senior attackman Brad Gurbacki (unassisted).

By the end of the game Hickey has scored 5g-1a, Ryerson had totaled 2g-5a and Conti had added 2g for the Barons.

Spencerport was led by Gurbacki (2g) and Rossignolo (1g) while Brian Traugott and Ryan Grogan each added an assist for Churchville-Chili who moves to 3-6.


Penn Yan scored five unanswered goals in the first quarter and extended their lead to 10-1 at the half on their way to a 14-4 win over host Victor. Scoring for the Mustangs were Steven Carlson (4g-3a), Dan Mesler (3g-3a) and Jon Van Houten (3g-2a). Brandon Trombley, Ben Odell, Dan Wolfe and Kyle Jensen each added 1g for Penn Yan. Sophomore goalie RJ Wickham (14 saves) and junior goalie Adam Galusha (1 save) shared the goal tending duties for the Mustangs (7-4).

Victor saw scoring from sophomore middie Jason Houtenbrink (2g), senior middie Kyle Sullivan (2a) and Matt Schmelzlen and Erick Rogemoser who each added 1g. Senior goalie Matt Schmelzlen recorded 11 saves for the Blue Devils (7-5).


Aquinas won their GRALL game against Bath-Haverling with a 11-3 score at Bath. Junior Mark Pincelli scored 3g-2a and junior attackman David Schmandt added 3g-1a for the Little Irish (8-4). Senior midfielders Jeremy Sutfin (2g) and Richie Zajac (2a) led the scoring while freshman middie McKenzie Durham added a goal for the Rams who drop to 2-7.


Honeoye Falls-Lima notched another league game in their undefeated season with a 15-3 win at home over Gates Chili. Seniors Mike Cintineo (4g-4a), Jeff Price (3g-4a) and David Uzialko (3g) led the offensive effort. Also scoring were freshman middie Cade Norris (2g), junior defensemen Bryan Zavitz (1g) and Connor Burgasser and senior attackman Zane Witzel (1g). Senior goalies Mike Brisbane (6 saves) and Will Fargo (8 saves) shared the goal tending duties. The Cougars improved to 10-0.

Sophomore attackman Andy Hilton led the Gates effort with 2g. Junior middie Andy McEntee added 1g-1a and junior middie Chris Sudek added 1a for G-C. Sophomore goalie Dave Bellaivia and senior goalie Frank Battagila each recorded 4 saves for the Spartans (1-9).


Irondequoit's Zack Pixley scored the first goal and the last goal of the game as the Eagles took the 7-6 win at Webster Thomas on Thursday afternoon.

Pixley's opening goal came on an assist from Corey Bottiglier. Thomas answered with an unassisted goal by junior attackmen Kevin Kemp. Irondequoit's junior attackman Joe Parker scored the next goal with an assist from junior midfielder Mickey Haight. Thomas midfielder Kurt DetWiller scored the next goal assisted by Kemp. The quarter ended in a 2-2 tie.

The second quarter saw Irondequoit score first when Derek Pino found Bottiglier open for his first goal. Next Kemp found Scalzo open on a backdoor look in man up to tie the game back at three. Next it was Parker (unassisted) for the Eagles to put them up by one with 8 minutes left in the half. Junior goalie Steven Hondorf who had 16 saves on the day and a great defensive effort by the Thomas defense kept them in the game. With 4:00 left in the half Titans sophomore attackman Brendan Rothfuss found senior midfielder Alan Luwish cutting to the cage to tie the score again at 4-4 where it remained at the end of the half.

The Eagles again took the lead at the top of the third when Haight scored with an assist from Parker. Irondequoit held the lead for nearly six minutes before Thomas again tied on an unassisted goal by Rothfuss with just 2 minutes remaining in the quarter.

The fourth quarter saw Thomas score first when Luwish found the goal with assist from Kemp. With eleven minutes remaining Thomas was in the lead. Less then a minute later Irondequoit tied it up with another goal from Parker. Then the Eagles took the lead on Pixley's goal with seven minutes left and finished on top.

For Irondequoit, Parker finished with 3g-1a, Pixley with 2g, Haight with 1g-2a, Bottiglier with 1g-1a and Pino with 1a. Sophomore middie Nick Kane won 8 of 10 faceoffs and sophomore goalie Zach Nash ended the game with 4 saves for the Eagles (8-4).

Steve Hondorf made nine saves for Webster Thomas (3-6).


It was Hilton over Spencerport, 8-6 at Hilton on Thursday.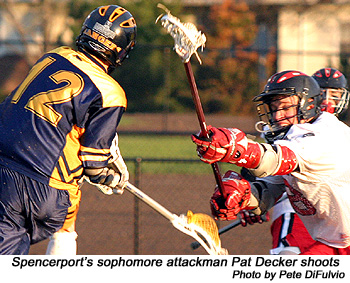 The Cadets came out strong with all five defenseman, Matt Davidson, Matt Faulks, Eli Towner, Jeff Bird and Pat Noble playing in front of sophomore goalie Aaron Donahey who was solid in goal with 16 saves.

Freshman attackman Mitch Ritchie led the scoring with 3g-3a, while junior attackman Tyler Stiles added 2g-1a. Sophomore attackmen Brett Bridges and Corey Blackburn each added 1g-1a and Jay Clifford and Colin Walker each added an assist for the Cadets (4-5).

Spencerport's scoring was led by junior attackman Rob Stojanov with three goals for the Rangers (4-6).
Penfield remains undefeated at 9-0 with a 10-2 win over visiting Pittsford. Although the Panthers led at the end of the first quarter, 2-1 the Patriots took over and went into halftime ahead at 4-2. They then shut out the Panthers in the second half while scoring six of their own. Pittsford's Steve Mathews made numerous saves for Pittsford and junior middie Greg Gans won the early game face-offs for Pittsford.

Scoring for the Patriots were Trevor Rice (3g-2a), Kelly McKenna (2g-1a), Mike Arvan (2g-1a), Tim Pfeffer (2g), junior middie Ben Foster (1g) and Mike Thon(1a).
Junior goalie Brian Dell had 12 saves for Penfield.

Scoring for Pittsford were senior attackman Jake Boyce and junior attackman Gavin McLean. No report form Pittsford.


Fairport held off a late game comeback from Schroeder and won 11-10 in a Thursday evening game at Webster.

Scoring for the Red Raiders were Pat Reilly (2g-21), Pete Burkhardtt (3g-2a) and Chris Lindner (3g-2a). Jeff Sanna scored 1g-1a and Tom Rynn and Jake Fricano each added a goal and Ryan Lowe added 1a for Fairport. Junior goalie Geoff Mayor recorded 11 saves for Fairport (7-4).

According to the morning paper, Webster's Mike Catalino scored 1g-1a in the last quarter. Junior attackman Jay Wilmes and sophomore attackman Grant Catalino each added three goals for the Warriors. Tom Costanza had 1g-2a for Schroeder (4-5). No Report from Schroeder.