Wednesday: Livonia and Pal-Mac Win
April 27, 2005

- Two games were played on Wednesday and Livonia and Pal-Mac were the winners.


Because a track meet was being held at the High School, host Eastridge played its game at Ivy Green elementary school. Visiting Livonia went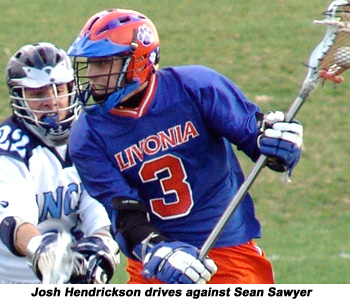 right to work scoring five goals in the opening quarter while holding the Lancers to one goal in their 13-6 win. Livonia saw goals from senior middie Shawn Wright, junior middie Brent Simpson (assisted by junior attackman Josh Dalberth), junior middie Chadd Britton and two from senior middie Josh Hendrickson, one of which was assisted by Britton. Eastridge had an unassisted goal from senior attackman Nick Savine.

Eastridge came back in the strong in the second quarter in spite of starting man down for three minute as the result of a stick penalty. The Lancer man down defense kept the Bulldogs from scoring as senior goalie Mike Mateo (22 saves) made three point blank saves. The Lancer offense did their part with a score by senior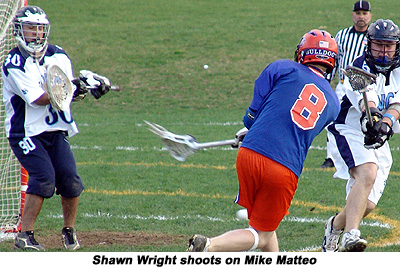 attackman Brody Mapes (assisted by junior middie Sean Sawyer) and the three goals in a row by Savine. The half ended with Livonia up 6-5.

The second half belonged entirely to Livonia as Eastridge mounted an incredible number of penalties which resulted in the majority of ball time on the bulldog end. Livonia scored six goals while allowing only one from the Lancers (senior middie Kevin Kimber). Livonia saw second have goals from junior Scott Mosher, Wright, Britton, junior attackman John Dalberth and Hendrickson.

By the end of the game Livonia saw scoring as follows: Britton (2g-4a), Hendrickson (4g), Mosher (3g), Wright (2g, 2a), Dalberth (1g-1a), Simpson (1g) and sophomore attackman Brian Sciera (1a). Close defenders Shane Moran, Andy Kurtz, Jeremy Allston and Jason Levesque, kept the Lancers at bay allowing only one goal in the second half of play. Junior goalie Aaron Jamison made 15 saves for Livonia.

Livonia improves to 5-5 while Eastridge falls to 3-5.


Pal-Mac started with an early three minute non-releasable penalty and went down by two goals before recovering to take a 7-3 half and the win against Bath with a final score of 10-3. The Raider defense of seniors Mike Beck, Josh Polle and junior Mike Hardin and Dave Merritt played outstanding defense in the second half, limiting Bath to no scores.

Scoring for Pal-Mac were senior attackmen Jaimie Sinopoli (2g-2a), Owen Campbell (2g) and Matt Christ (1g-2a). Senior middies Dave Bennett and Matt Walker each added 2g while Jaimie Gross added 1g-1a and senior defenseman Lee Benedict added 1g. Senior goalie Ben Dlugosh had 10 saves for the Raiders (4-7).

Bath had scoring from senior middie Richie Zajac and senior attackman Ryan Finney who scored 1g-1a each and from junior attackman Zac Conrad who added 1g while senior attackman Liam Glover added 1a. Junior goalie Jeremiah Wilder recorded 12 saves for the Rams (2-6).