Tuesday: Fairport in a Close One
April 26, 2005

- It was a full day of lacrosse under cloudy but warm skies. Fairport won a close game against vi sting Irondequoit, and Gates has a one goal victory in the battle of the Chilis. Hilton won in overtime, but there were a number of blowouts as Canandaigua, Penn Yan, Geneva and Penfield each had easy wins.


In their first match up Fairport won by a single goal when they played at Irondequoit.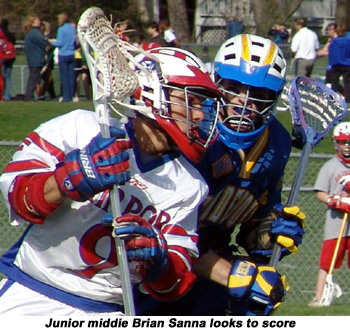 Today, it was a home game for the Red Raiders and they won by a single goal once again with a score of 7-6. The game was close throughout with neither team taking command of the game.

Irondequoit scored first on their first attempt as senior midfielder Cory Bottiglier scoring on a feed from junior attackman Joe Parker at 9:35. Fairport came back with a man up goal by junior attackman Pat Reilly assisted by sophomore attackman Mike Danylyshyn at 6:39. Reilly scored again at 2:54, again assisted by Danylyshyn. The Eagles then scored two in a row as junior attackman Derek Pino scored an unassisted goal at 1:23 and senior middie Zack Pixley scored an unassisted goal at 0:21 in a scuffle near the crease. With 0:03 left in the first quarter, Fairport's junior middie Brian Sanna scored an unassisted goal from out front. The first quarter ended in a 3-3 tie.

The second quarter was similar to the first, but whereas Fairport controlled the majority of faceoffs in the first quarter, ball time started to even out. Irondequoit scored first again, at 9:18 (Pino from junior middie Mickey Haight).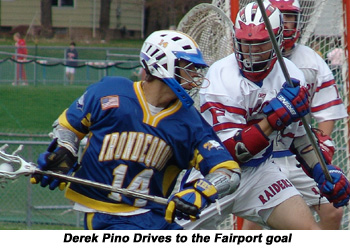 Fairport came back at 4:23 with another man up goal (senior midfielder Chris Lindner from Reilly) and the Eagles returned after the next face off with a man up by Haight assisted by Parker at 4:15. Fairport tied the scored at the 1:33 mark when junior middie Ryan Lowe scored on a feed from junior attackman Peter Burkhardtt. Once again, with 0:03 left in the half, junior middie Jake Fricano scored on an assist from junior middie Jeff Sanna to give Fairport a 6-5 half-time lead.

The second half saw little scoring as the ball moved back and forth and many of the shots taken by each team went wide of the cage. Irondequoit again scored first, in the first minute of the quarter, when Parker took the ball from midfield and scored (unassisted) at 11:01. The game was tied, but it would be Irondequoit's last goal of the game. Sophomore middie Tom Rynn scored the game winner for Fairport at 9:32 with a feed from Lindner at 9:32 and the next 21:32 went scoreless in spite of a number of opportunities. After a four game loosing streak, Fairport improves to 6-4 while Irondequoit drops to 7-4.


Penfield took a commanding 7-1 first quarter lead and extended it to 10-3 before finishing with a 19-5 win at host Rush-Henrietta. Twelve different players made the scorebook for the Patriots. Leading the scoring were senior attackmen Tim Pfeffer (4g-3a) and Trevor Rice (1g-4a) and senior midfielder Mike Thon (3g). Senior attackman Jason Knerr and junior middie Kelly McKenna each scored 2g-1a and junior middie Mike Cummins added 2g for Penfield. Attackmen David Malone, Connor Rice and Scott Serron each added 1g-1a while Alex Del Pozzo and Kevin Green each added 1g and Paul Leonard added an assist. Junior goalie Brian Dell and senior goalie Chris Tateo combined for 8 saves for the Patriots (8-0).

Rush-Henrietta goals came from senior attackman Sam Hillmon (2g) and sophomore attackman Matt Morin (1g-2a). Sophomore middie Justin Rose and junior middie Tony Henriquez each added a goal and senior middie John Gause added an assist. Sophomore goalie Matt McShea had 7 saves for the Royal Comets. (2-7).


Hilton had a 6-2 lead at halftime but Greece came back in the second half and scored 5 of the next 6 goals to send the game into overtime. The tying goal for the Thunder was scored by junior attackman Dave Rodrigues on an assist from sophomore middie Matt Machucki. Junior attackman Tyler Stiles scored the winning man up goal in the final minute of overtime with an assist from freshman attackman Mitch Ritchie.

Stiles ended the game with 3g-1a. Ritchie led the offense with 4g-3a. Attackmen Brett Bridges (2a) and Andy Ellsworth (1g) added to the Cadet score. Sophomore goalie Aaron Donahey made 13 saves for Hilton (3-5).

For Greece Rodrigues finished with 3g-1a, Machucki with 1g-4a and senior attackman Joe Hallowell added 1g-1a. Senior midfielder Mike Kemp added 1g and senior defenseman Cody List scored his 1st goal of the season. Senior goalie Orlando Villegas had 10 saves for the Thunder (2-7).


Host McQuaid Jesuit played a close first first half, but controlled the second half for a 10-6 win in their GRALL game with Livonia tonight. After a 3-3 tie in the first quarter, the Knights took a slight edge for a 6-5 halftime lead. In the third quarter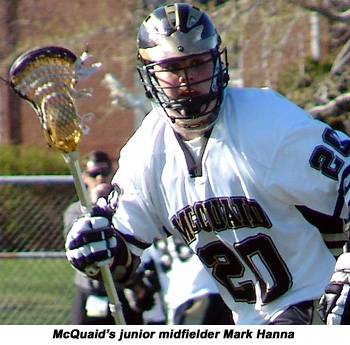 McQuaid Jesuit took a 3 goal lead before finishing with 4:41 left in the game. Eight different players made the scorebook for the Knights and 9 of the 10 goals came from underclassmen.

Junior attackman Mark "Sparky" Hannna led the offensive effort with 6g including four in a row in the second half. Sophomore middie Evan Gallina scored 1g-2a, senior middie Kevin Dacey scored 1g-2a and senior midfielder Scott Rubino added 2a for the Knights.

Commenting on the game was Coach Bryson who said, "I was particularly excited to see our underclassmen step up and contribute to the offense. Defensively, we really picked it up during the second half and proved that when you play with passion, you can make things happen." McQuaid Jesuit improves to 4-6.

"We slid to the ball well, it was the second slide to the crease man that we didn't make," stated a frustrated Livonia Coach Sciera. "Our failure to possess the ball on offense was also a factor, we have to learn to take care of the ball better."

Leading the scoring for Livonia were junior attackman John Dalberth (2g-2a), sophomore attackman Brian Sciera (2g) and senior middie Josh Hendrickson (1g-1a). Shawn Wright added 1g and Andy Kurtz added 1a. Junior goalie Aaron Jamison made 11 saves for Livonia (4-5).


Senior midfielder Dave Street scored the winning goal for Gates Chili on an assist from sophomore attackman Andy Hilton with 0:01 left in the game as Gates Chili beat host Churchville-Chili 6-5. The Saints held a 3-2 half-time lead and also led at the end of three quarters, but the Spartans out shot the Saints 34 to 33 and in spite of junior goalie Evan Williams 18 saves the Gates Chili came back for the the first win in Gates' history.

Scoring for Gates were Andy Hilton (2g-3a), junior middie Chaz Giehl (3g), junior middie Andy McEntee (2a) and Street (1g). Sophomore goalie Dave Bellaivia had 15 saves for the Spartans (1-8).

Scoring for Churchville-Chili were sophomore middie Jaime Englert (3g), sophomore attackman Ryan Grogan (1g-2a) and sophomore middie Cory Mee (1g). Brian Traugott and Brad Gurbacki each added an assist. The Saints defense was led by senior Rich Amundson who was the ground ball leader with 8 for C-C (3-5).


Honeoye Falls-Lima remained one of two undefeated Section Five teams as they cruised to an 16-8 win over visiting Spencerport. The Cougars took a 6-2 quarter to a 9-3 half before adding 7 more in the second half. Eight different players made the scorebook for HF-L.

Senior attackman Mike Cintineo continued to pile up stats with 5g-1a, while fellow senior attackmen Jeff Price finished with 4g-3a and Zane Witzel finished with (3g).
Senior middie David Uzialko added 2g-1a , Chris Stanton added (1g) and Chris Norris added (1g- 1a). Bryan Zavitz and Dusty Mulcahey each added an assist for the Cougars. Senior goalies Mike Brisbane (14 saves) and Will Fargo (2 saves) shared the tending duties for HF-L who take their record to 9-0.

Spencerport's goals were scored by sophomore attackman Pat Decker (3g), junior attackman Rob Stojanov (2g), and Jeff Konko, Kyle Campion, and Steve Difulvio who each scored 1g for the Rangers (4-5).


After a slow first half during which both teams scored two goals in the first quarter and no goals in the second, Victor took a 5-3 third quarter lead and fished with the 8-4 win over host Pal-Mac. Face-offs gave Victor more ball time and the number of shots of goal may have been the difference for the Blue Devils.

Sophomore attackman Jason Houtenbrink was the scoring leader for Victor with 3g-2a. Senior middie Kyle Sullivan (2g) and Senior attackman Cory Benulis (1g-1a) added to the score while junior middie Erick Rogemoser and sophomore middie Eric Willman collected 1g each and freshman attackman Tom Rogemoser added 1a for Victor. Senior goalie Matt Schmelzlen recorded 8 saves.for the Blue Devils (7-4).

Pal-Mac saw scoring from senior middies Matt Walker (3g) and Dave Bennett (2a) and senior attackman Jaimie Sinopoli (1g ). Senior goalie Ben Dlugosh made 10 saves for the Raiders (3-7).
After their first loss of the season last Saturday to Baldwinsville (Section 3), Canandaigua got back on track with a 21-1 league win against Midlakes. Thirteen different players made the books for the Braves.

Scoring for CA were senior attackman Chris Mulheron (3g-2a), Jeremy Nemecek (2g) and Kyle Wakefield (1a). Junior attackmen James Regan (3g), Zack Scheetz (1g-1a) and Eric Klein (5a) and sophomore attackman Jeremy Brown (2g) added to the score. From the midfield seniors Brian Hadsell (2g), Todd Anthony (2g) and Nick Boylan (2g) were paced by junior Chris McWilliams with 2g-1a and sophomores A.J. Groot (2g-1a) and Charlie Sauter (1g). Junior goalie Dan Serafine played the first 6 minutes and was relieved by senior goalie Billy Thomson who played the last 3.5 quarters and had 2 saves and gave up 1 goal for the Braves (8-1).

Scoring for Midlakes was junior attackman Ryan McCannon Junior goalie Brendan Hennessy had 10 saves for Midlakes (0-9).


Penn Yan won their Finger Lakes league game Tuesday with a 14-1 victory over visiting Mynderse. Leading the scoring effort for the Mustangs was senior attackman Jon Van Houten with 4g-7a and junior middies Dan Mesler (3g-2a) and Steven Carlson (2g-3a). Junior attackman Ben Odell added 1g-1a while Dan McGuffie, Kyle Jensen and Ryan Cook added 1g each. Sophomore defenseman Michael Manley added an assist for the Mustangs. Sophomore RJ Wickham (15 saves) and junior Adam Galusha (3 saves) shared the goal tending duties for Penn Yan (6-4). No report from Mynderse.


Geneva was the winner with a 15-3 scored over Waterloo on tuesday afternoon. Senior midfielder Matt Warner scored 2g-3a and senior attackmen Mike (3g-1a) and Chris Toner (4g) led in scoring. Sophomore middie, John Warner added 2g while Greg Bonney, Jake Queener, RJ Gringeri and Adam Stewart each added one goal. Henry Heaton and John Manion each added an assist and senior middie Matt Morabito again won over 75% of his faceoffs for the Panthers (5-4).

Senior Gordy Lahr led the Waterloo effort with 2g and Matt Haws added the third. Senior goalie Pat DeBolt had 4 saves for the Indians (7-5).


Brighton won their league game against Eastridge on Tuesday night with a 17-7 victory at home. Senior attackman Mike Ryerson continued to roll up points as he scored 7g-3a for the Barons Sophomore middie Ryan Conti added 2g-3a and junior middie Robbie Asselin scored 2g-2a for the Brighton (8-1).

Sophomore attackman Todd Horne scored his first Varsity goal and senior attackman Matt Francis put up his first numbers of the season for the Lancers. Also scoring single goals were Nick Savine and Mike Passantino. Junior middie Sean Sawyer continued his scoring streak with 1g-3a and junior middie RJ Pixley added 2g. Senior goalie Mike Matteo had another excellent night in the goal fending off numerous Brighton shots. No report from Brighton.