Wednesday: Newark Tourn and more
April 20, 2005

- It was day 1 for the Newark Tournament and Aquinas and Newark with the winners. Irondequoit beat Ithaca of Section Four and HFL beat host Pittsford.


The first game of the day was at Irondequoit, where the Eagles beat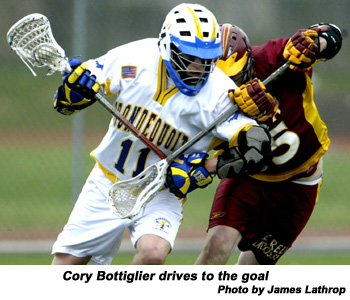 the top Class A team from Section Four, Ithaca, 10-3. Senior defensemen Dan Nielsen and Kyle Byron had strong performances in shutting down Ithaca's leading scorers at attack and midfield. A key point in the game occurred at the start of the third quarter when the Eagles successfully killed off a two minute penalty.

Scoring for Irondequoit were junior attackman Joe Parker (3g-3a), junior midfielder Mickey Haight (3g) and senior middies Zack Pixley (2g-1a) and Cory Bottiglier (2g). Adding assists were Derek Pino, Kevin Coholan and Andrew Hart. Sophomore goalie Zack Nash had 9 saves for the Eagles (6-3).

Sophomore attackmen Kyle Huckle (2g) and Erik Jorgenson (1g) scored for Ithaca while Ben Farr and Colin Stuart added assists for the Little Red. Junior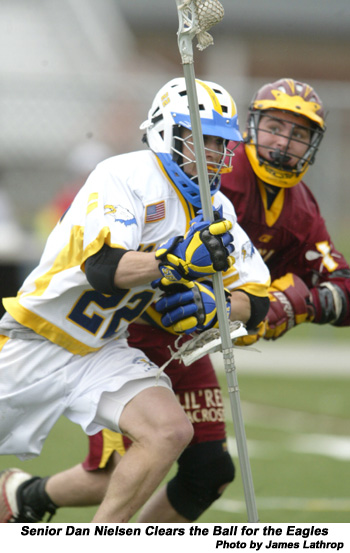 goalie Dave Grossman had 15 saves for Ithaca (7-1).
Tournament host Newark won its game with Midlakes 14-5 with scoring leaders Nate Johnson (4g-1a) and Jason Johnson (2g-1). Junior middie Nate Stevens led Midlakes with 2g, while junior goalie Brendan Hennessy recorded 14 saves for the Eagles (0-7). Newark improves to 2-6 and will face Aquinas in the Championship game on Friday. No report from Midlakes.


Aquinas won its game with Bath 10-8 as the second game in the Newark Tournament. Bath saw 3 goals each from from senior middies Richie Zajac and Jeremy Sutfin. Senior attackman Liam Glover added 4a and Josh Thompson and Zac Conrad each scored a goal. Kyle Benesh, McKenzie Durham, and defenseman Alex Durham each had one assist and Jeremiah Wilder had 21 saves in the goal. No report from Aquinas.


Honeoye Falls-Lima was the 12-4 winner over Pittsford on Wednesday afternoon at Pittsford Mendon. Scoring for the Cougars were Mike Cintineo (4g-3a), Jeff Price (4g-1a) and David Uzialko (2g-1a). Connor Burgasser added (1g-2a) and Dan Layfield added 1g for HF-L. Mike Brisbane had 15 saves for the Cougars (7-0).

Scoring for Pittsford were Mike Peacock (2g), Dylan Bittlingmaier (1g) and Jake Boyce (1g).