Thursday: Penfield Again
April 14, 2005

- Penfield in their second tough game this week beat Fairport in a close one, Pittsford beat Rush-Henrietta in overtime and Schroeder won the bragging rights in Webster on another cool and sunny afternoon.


The game was in the defense as host Penfield (4-0) took a 3-0 lead in the first quarter to a 6-4 win over Fairport in this premiere MC-1 contest.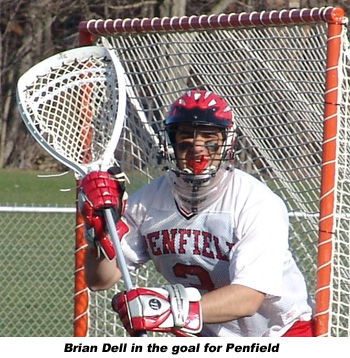 Senior middie Mike Thon, after dominating in the Irondequoit game on Tuesday started off where he left off and scored the first Penfield goal at the 4:41 mark on an assist from junior midfielder Mike Arvan. Less than a minute later, junior middie Kelly McKenna scored on an assist from Arvan and 0:31 later Thon scored again and again on a feed from Arvan. The Patriots were ahead 3-0 at the end of the first quarter.

The second quarter continued to be a defense dominated game, with both ends keeping the ball away from the cage. Penfield junior goalie Brian Dell made numerous dramatic saves. McKenna scored at 4:36 on a man up play and an assist from senior attackman Tim Pfeffer. Fairport scored it's first goal at 3:25 on a man up goal by Chris Lindner (assisted by Pat Reilly) and the half ended with Penfield up 4-1.

Goals continued to be hard to get in the second half as nearly six minutes came off the clock before Mike Danylyshyn scored an unassisted goal that brought cheers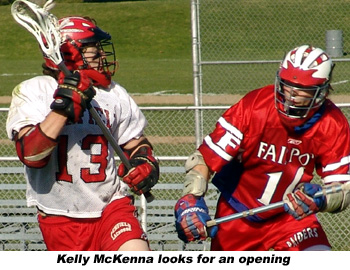 from the Raider side of the stands. The Patriots quieted the crowd when senior attackman Jason Knerr came back with his unassisted goal at 4:12. Looking for another momentum shift the Raiders scored at 1:48 when, after a hard Danylyshyn shot bounced off Dell, Fairport's senior attackman, Anthony DiMarsico picked up the loose ball and popped into the net to bring the Raiders to within two goals. The quarter ended with Penfield still ahead 5-3.

Fairport scored at 9:51 when sophomore middie Tom Rynn scored a man up goal (assisted by junior attackman Ryan Lowe). Penfield came back when Pfeffer hit the net with an assist from Thon. The last 8:24 were tense up and down the field, with the obligatory use of strategic time outs, and with the Patriots successfully taking time off the clock to maintain the win.

Penfield's defense lead by seniors Luke Prattico, John Butt, Matt Damieder and long stick middie Evander Wilson kept many shots away from Dell who ended the game with 11 saves. Fairport's junior goalie Geoff Mayor recorded 16 saves for the Red Raiders (5-1).


The Churchville-Chili Saints jumped out to a 11-3 half-time lead and finished with a 14-6 victory over visiting Greece. Leading the way for the Saints were senior middie Brad Gurbacki with 5g-3a, sophomore attackman Ryan Grogan with 5g and sophomore midfielder Ben Rossignolo with 2g-2a. Rounding out the scoring were senior middie Devin Jessop with 1g-2a, junior attackman Ryan Cantrell with 1g and sophomore midfielder Jaime Englert with 1a. Junior goalie Evan Williams had 9 saves for the Saints (3-3).

Greece saw 2g-1a from senior attackman Joe Hallowell and 2a from junior attackman Dave Rodriques. Senior Tad Barker, playing in the attack instead of midfield scored 1g while sophomore middie Matt Machucki added an assist while playing in the attack. Senior midfielder Mike Kemp (2g) and Craig Cercone (1a) hit the books along with sophomore middie Shawn Underitz (1g). Senior goalie Orlando Villegas recorded 10 saves for the Thunder (2-6).


The Brighton Barons improved their record to 5-1 with a 15-6 win over host Gates Chili. Brighton scored the first two goals but Gates came back and the quarter ended with Brighton up 3-2. At the half, the Barons had increased their lead to 7-4, but exploded in the third with 5 goals to take a 12-4 lead into the last quarter.

Senior attackman Mike Ryerson led the scoring for the Barons with 5g-1a, while James Ryan finished with 1g-6a and sophomore middie Ryan Conti added 3g-1a. Nine different Barons scored.

Gates saw scoring from sophomore middie Andy Hilton (3g) while freshman middie Tom Sudulk, senior attackman Dave Street and junior middie Lucian Perrezult each added a goal for the Spartans. Chaz Giehl and Kyle Beikirch each added 1a for Gates while sophomore defenseman Jake Johnson helped sophomore goalie Dave Bellaivia make 8 saves on the defensive end of the field for the Spartans (0-6).


It was host Geneva over Pal-Mac 14-8 on Thursday. The Panthers took a 2-1 first quarter lead and led at the half 7-6, but the second half belonged to Geneva as they outscored the Raiders 7-2.

The Panthers were led by senior attackman Mike Toner (4g-4a), senior attackman Matt Warner (1g-6a) and sophomore attackman Greg Bonney (4g). Senior attackman Chris Toner added 1g-1a while senior middies Henry Heaton (3g), Jake Queener (1g) and Paul Modera (1a) added to the Panther score. Sophomore midfielder John Warner added 1a and senior goalies Nick Sharman and Jeremy Lahey combined for 6saves for Geneva. Matt Morabito won 20 of 24 face offs for the Panthers (3-2).

Pal-Mac's scoring came from senior midfielders Matt Walker (3g), Dave Bennett (2g-2a) and Jeremy Reeves (1g). Senior attackmen Jaimie Sinopoli (2g-1a) and Matt Christ (3a) added to the Raider score. Senior goalie Ben Dlugosh recorded 18 saves for Pal-Mac (2-5).


Pittsford was the winner in overtime when Mike Peacock scored the winning goal, to allow the Panthers to beat host Rush-Henrietta 9-8. Pittsford led at the half 6-3 and at the end of the third quarter 8-6, but the Royal Comets tied the game up at the end of regulation.

Sophomore attackman Mike Moran scored 2g-2a, senior attackman Brian McShea scored 3g-1a and senior attackman Sam Hilmon added 1g-2a for R-H. Tony Henriquez and Brian Hantzis each scored a goal and seniors Nick Garnier and Phil Gordon each added an assist for the Royal Comets (0-6).

No report from Pittsford.




Canandaigua out shot Waterloo 52-20 but the goaltending of senior Pat DeBolt, who made 21 saves, made it more difficult for the Braves to win 10-5 at Waterloo.

Senior attackman Chris Mulheron scored 2g-4a and fellow attackmen Aaron Manzer added 1g-1a and Kyle Wakefield added 1g. Senior middies Dan Goot (3g), Nick Boylan (1g) and Brian Hadsell (1g-1a) joined junior middie Tyler Rankin (1g) in the scorebook for the Braves (5-0).

Waterloo (4-3), got 2g-1a from sophomore midfielder Josh Mateo and one goal each from junior Steve Kurt, and seniors Gordy Lahr and T.J. Radka while senior middies Jason Johnson and Matt Kaiser each added an assist.


Honeoye Falls-Lima continued their undefeated 7-0 season with a 18-3 win over host Hilton as they produced 14 assists (78%) on their 18 goals. Seven different players hit the books for the Cougars including Mike Cintineo (6g-2a), Dan Layfield (5g-2a) and David Uzialko (2g-4a). Also adding to the win were Jeff Price (2g-3a), and Connor Burgasser, John Cintineo and Cade Norris who each added (1g-1a). Senior goalie Mike Brisbane had 9 saves for the Cougars.

Freshman attackman Mitch Ritchie led the Hilton offense with 2g-1a, while 8th grader Mike Cromlish added 1 goal and sophomore Brett Bridges recorded an assist. Sophomore goalie Aaron Donahey had 14 saves for the Cadets (2-4).


Webster Schroeder won the bragging rights in Webster as they beat cross-town Thomas 15-6 at home. After a 3-1 lead the Warriors took off in the second quarter and ended the half 10-3. Both teams scored a goal in the third quarter. The Schroeder close defense of Matt Crandall, Jeremy Appell and Mark Liberti held Thomas
to 13 shots on goal and contributed 14 Ground balls

Scoring 3g each for the Warriors were Jack Mooney (3g-3a), Mike Catalino (3g-3a) and Tom Costanza (3g-1a). Scoring 2g each were Eric Chavoustie and Grant Catalino. Jay Wilmes added 1g-1a and Joe Didia added and assist. Mike Catalino won 8 or 12 and John Pawluk won 6 of 8 faceoffs for Schroeder. Pawluk was the ground ball leader with 12.

Score only form Thomas.




Spencerport was the winner in a close one with Eastridge as they beat the Lancers 7-6 at home. Eastridge took the first quarter lead 1-0 and held on at the half, 4-2, but the Rangers control the game in the third, scoring 5g and holding the Lancers to 1. With the score 7-5 at the top of the last quarter, Eastridge scored the only goal.

Scoring in the attack for Spencerport were junior Rob Stojanov (4g), sophomore Pat Decker (1g) and junior Andy Morgan (1g,2a). Midfield scoring came from juniors Kyle Campion (1g,1a) and Tyler Hintz (2a). The defense played a great game led by juniors Cameron Sformo, Steve Balcerak, and Parker Blackburn along with long stick middie Mark Hosey. Junior goalie Ryan Konko made 19 saves for the Rangers.

Senior attackman Nick Savine scored 2g, while Kevin Kimber, Brady Mapes,
Sean Sawyer, Nick Savine, and Brian Sutton each scored 1g for the Lancers. No report from Eastridge.


It was Victor over Newark, 18-4 as the Blue Devils took a 4-1 first quarter lead to a 7-3 half time. Many of the goals were assisted and came from the attack as Cory Benulis (4g-4a), Jason Houtenbrink (5g-1a) , Mike O'Hare (3g-1a) and Tom Rogemoser(1g,1a) led the way. Scoring from the midfield were Eric Willman (4g-2a) and Stephen Personale (1g). Senior goalie Matt Schmelzlen had 7 saves.

Newark's goals came from four different players: senior attackman Jason Johnson (1g-1a), junior attackman Nate Johnson (1g), senior middie Kyle Brum (1g) and junior middie Greg MacBride (1g). Junior goalie Anthony Cole has 11 saves for the Reds who drop to 1-6. No report from Newark.


Penn Yan won the shutout with a 19-0 win over Midlakes on Thursday. Dan Mesler scored 6g, Steven Carlson scored 3g-2a, and Jon Van Houten added 2g-3a. Also scoring were Ben Odell (2g-1a) and Ryan Cook (2g) and 5 other Mustangs, who scored one goal each. Junior goalie Adam Gulusha made 2 saves for Penn Yan (3-2) while Midlakes drops to 0-6). No report from Midlakes.