Tuesday: Penfield over Irondequoit and more
April 13, 2005

- Cold but sunny afternoon skies prevailed for ten afternoon and 3 night games in Section Five.


It was a game, as advertised; a well fought game which at times looked like either team would win, but in the end, Penfield's senior midfielder Mike Thon and the Patriot defense made the difference and it was host Penfield over Irondequoit, 10-8.

The absence of Irondequoit's Sean Doyle, who injured his knee in Saturday's game against Schroeder, was obvious from the first whistle as Mike Thon controlled the initial face off and many more after that. The Eagles scored first at 9:59 when senior middie Zack Pixley scored on an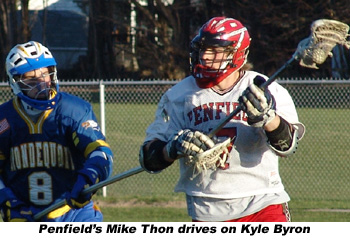 assist from senior middie Cory Bottiglier. Penfield scored the next goal at 5:13 as senior midfielder Alex Del Pozzo scored on a feed from Thon. Irondequoit scored again at 3:56 (Kevin Coholan from Pixley) and the first quarter ended with the Eagles up 3-2.

Penfield evened things up before the half, scoring three goals while Irondequoit scored two. The Eagles increased their lead by two as Pixley scored an unassisted goal at 7:48 and junior attackman Joe Parker scored on an assist from Bottiglier at 6:37. Irondequoit was ahead 5-2 when Thon scored two unassisted goals in seven seconds starting at 5:37 and junior middie Mike Arvan scored with an assist from Kelly McKenna to tie the score at four and end the half.

Irondequoit scored first, their only goal of the quarter when junior middie Mickey Haight scored an unassisted goal at 8:17. Penfield then took control of the third quarter as Thon scored two more in 11 seconds starting at 7:45. The first goal was assisted by Arvan. McKenna scored at 5:32 (assisted by Thon) and senior attackman Tim Pfeffer and senior middie Ben Foster scored unassisted goals to end the third quarter with Penfield up 9-5.

The Eagles mounted a come back in the last quarter with scores by Bottiglier, Haight (from Pixley) and junior attackman Derek Pino (from Bottiglier). Penfield saw one more goal from McKenna (from senior attackman Jason Knerr.

Although the Eagles has plenty of ball time throughout the game, the Patriot defense including seniors Luke Prattico, John Butt and Matt Damieder did a commendable job of keeping strong Irondequoit shooters away from goalie Brian Dell. Irondequoit's senior defensemen Dave Wesolowski and Dan Nielsen were also notable in their match up assignments. Penfield improves to 3-0 while Irondequoit drops to 4-2.


Canandaigua won Tuesday's game with visiting Pal-Mac 13-2 using twelve different players on the scorebooks. Senior attackman Chris Mulheron led the effort with 6a while senior middie Dan Groot added 3g and senior middies Aaron Manzer and Al Gianforti and sophomore middie AJ Groot each added two for the Braves.

James Regan and Eric Klein added 1g-1a and Kyle Wakefield, Nick Boylan, Zack Scheetz each added a goal while Brian Hadsell and Jeremy Nemecek each had an assist for CA. Junior goalie Dan Serafine played 3 quarters and had 6 saves (1 GA) and senior goalie Bill Thomson played the rest of the game (1s - 1 GA) as the Braves improve to 4-0.

Pal-Mac saw scoring from senior attackman Jamie Sinopoli (1g) and senior middies Jeremy Reeves (2a) and Matt Walker (1g). Senior goalie Ben Dlugosh had a great performance with 19 saves for the Raiders (2-4).


McQuaid Jesuit was the winner against Midlakes with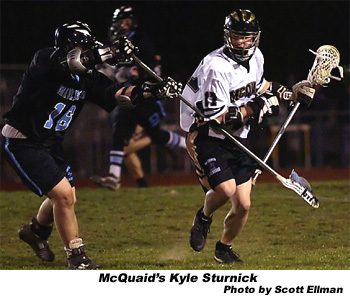 an 11-0 home opener that saw eight different players making the books. After a scoreless first quarter, the Knights posted six goals in the second and five more in the second half. Junior goalie Pat Maguire earned the shutout for McQuaid Jesuit. Leading the offensive efforts were senior attackman Kyle Sturnick (2g), Junior attackman Mark Hanna (2g) and senior midfielder Kevin Dacey (1g-3a). McQuaid Jesuit moves up to 2-3 while Midlakes moves down to 0-5 in their first year in the FL league. No report from Midlakes.


Webster Thomas won their season opener, 10-7 at Rush- Henrietta. With both teams trying to get their first win, the match up between the young Rush Henrietta Royal Comets and the young Webster Thomas Titans was bound to be a good one. Both battled for ground balls all day. Rush Henrietta, led by Tony Henriquez dominated face offs, winning 15 of 17. Henriquez also recorded 2g.

Playing well for the Titans was Sophomore Attackmen Brandon Rothfuss who scored a game high 5g, many on unsettled situations. The score was 2-1 after the first quarter and 4-2 at half time. Scoring for Rush was senior midfielder Nick Garnier who had 2g and 10 gbs. Answering for the Titans was sophomore attackmen Dom Scalzo who had 2g-1a.

The Thomas defense held tight all night. Junior goalie Steven Hondorf anchored the defense in the cage and recorded 13 saves, many in one-on-one situations. After the end of three the score was Thomas 7 and Rush 4.

At the end of the game Garnier, Henriquez and sophomore attackman Brian Hantzis each recorded 2g and while sophomore attackman Matt Morin added 1g senior attackman Brian McShea made 2a for Rush. Sophomore goalie Matt McShea made 11 saves for the Royal Comets (0-5).


It was Eastridge over visiting Hilton 16-8. Senior attackman Brian Sutton scored 1g-6a and senior middie Kevin Kimber added 3g-1a for the Lancers (2-2).

Hilton was led by freshman attackman Mitch Ritchie who had 3g-3a. Sophomore midfielder Kyle Hayward scored his first varsity goal, junior attackman Tyler Stiles and sophomore middie Brett Bridges each added 2g. Sophomore middie Andy Ellsworth and sophomore defenseman Eli Towner stepped up for goal tending duty for the Cadets (2-3) who were without a regular goalie for the game. No report from Eastridge.


Victor was back on track with a 16-8 win over Mynderse on Tuesday afternoon in the battle of the Blue Devils. After taking a 6-0 first quarter, the Blue Devils led at half time 10-2. Nine different Victor players hit the scorebooks. Senior attackmen Cory Benulis (5g-2a) led the effort with help from Senior midfielders Jon Hankin (3g) and Kyle Sullivan (3a). Senior attackman Mike O'Hare added 2g-1a, sophomore middie Eric Willman scored (1g-3a) and sophomore attackman Jason Houtenbrink had 2g. Freshman attackman Tom Rogemoser added 2g and junior middies Conor Daly (1g-1a) and Erick Rogemoser (1a) made the books for Victor. Senior goal tender Matt Schmelzlen recorded 9 saves for the Victor (3-2).

"We moved the ball like I know we can". We were patient and found the open
man, " said Victor Coach Mark Foeder after the game.

Scoring for Mynderse were senior attackman Chris Warrick (3g), senior middies Troy Gotham (1g-1a) and Tom Ellis (1g), sophomore middie Kevin McCully (2a) and Gary Reisman, Sean McGrimley and Jon Young who each scored 1g for Mynderse. Junior goalie Nick Traskkun made 8 saves for MA (3-5).


The Greece Thunder won their MC-2 league game with first year team Gates Chili, 9-8 on Tuesday. Junior attackman Dave Rodrigues scored 3g-2a, Matt Machucki scored 3g and Joe Hallowell added 2g. Senior midfielder Mike Kemp added1g-2a while the defense was controlled by junior Jon Tallent, senior Matt Fessler, senior Cody List and freshman Ryan Grimshaw. Senior goalie Orlando Villegas made 10 saves for the Thunder (2-5).

Gates junior face off man Chaz Giehl won 15 of 21 face offs and scored a goal while sophomore attackman Andy Hilton scored 4 goals. Senior attackman Dave Street scored 1g-2a and junior middie Andy McEntee scored 1g-1a for the Spartans. Junior middie Jim Drabin scored 1g and Tom Sudek recorded an assist. Sophomore goalie Dave Bellaivia made 10 saves for Gates (0-5).
It was Penn Yan over Waterloo 9-6 as senior middie Kyle Jensen won 15 of 18 face offs and added 1g-1a. Junior midfielders Dan Mesler (2g) and Steven Carlson (2g-1a) and sophomore middie Dan Wolfe (1g) hit the books along with attackmen, Mark Kratochvil, Dan Mcguffie and Jon Van Houten who each score 1g. Sophomore goalie RJ Wickham made 10 saves for the Mustangs (2-2).

Waterloo had scoring from senior midfielders Jason Johnson (1g-2a), TJ Radka (1g), Gordy Lahr (2g) and Matt Kaiser (1g-1a)/ Senior attackman Shawn Dunphy added (1g-1a). Senior goalie Pat DeBolt made 13 save for Waterloo (4-2).


Aquinas beat Nichols of Section 6 7-6 and improved their record to 4-1 with a goal with 0:15 remaining by junior attackman David Schmandt (2g-1a). Junior middie Pat King added 3g and senior goalie Jason LaShomb recorded 15 saves for the Little Irish. No report from Aquinas.
Brighton started slowly, scoring the first two goals and leading at the half 3-2, before scoring 9 goals in the second half to beat first year team, Spencerport 12-6 at Brighton. According to the Rochester D&C James Ryan scored 3g-4a, Mike Ryerson added 3g-1a and Colin Davis added 2g-2a.

Junior attackman Rob Stojanov scored 4g-1a and junior midfielder Kyle Campion had 1g-1a for Spencerport (3-2). No report from Brighton.


Host HF-L improved their record to 6-0 with a MC-2 league win against first year team Churchville-Chili 14-4 as senior attackmen, Mike Cintineo (5g-3a), Jeff Price (2g-3a) and Zane Witzel (2g-1a) led the way. Senior middie David Uzialko added 2g while John Cintineo, Dan Layfield and Connor Burgasser each added one goal. Freshman midfielder Cade Norris recorded an assist for the Cougars,whose senior goalie Mike Brisbane made 3 saves before turning the tending duties over to senior Will Fargo (3 saves).

Churchville-Chili saw scoring from senior middie Brad Gurbacki (2g-1a), sophomore attackman Ryan Grogan (1g-1a) and sophomore midfielder Jamie Englert (1g-2). The Saints drop to 2-3. No report from Churchville-Chili.


Fairport used eight different players to beat Pittsford 7-5 at Mendon HS. Sophomore midfielder Tom Rynn led the offense with 2g-1a while Jeff Sanna, Anthony DiMarsico, Dave Burke each scored 1a for the Red Raiders. Junior Middie Ryan Lower and senior middie Chris Lindner each recorded 1g-1a and Pat Reilly and Pete Burkhardtt each added an assist for Fairport (6-0). Junior goalie Geoff Mayor made 9 saves and Rynn won 9 or 14 face offs for the Red Raiders. No report from Pittsford (1-3).


Geneva scored the first 11 goals in their 11-2 win against Newark. The Panthers won the first quarter 3-0, led at the half, 9-0 and ended the third quarter up 11-0. Sophomore attackman Greg Bonney scored 3g-1a, senior attackman Mike Toner scored 5g-1a and senior middie Matt Warner added 2g-1a. Sophomore middie John Warner score 1g and John Manion, Carson Poole and Chris Toner each added an assist for the Panthers ( 2-2). Geneva goalies Nick Sharman and Jeremy Lathey combined for 7 saves.

Newark's goals came from junior attackman Nate Johnson and senior midfielder Kyle Burm. Junior goalie Anthony Cole had 21 saves (66%) for the Reds (1-5).