Tuesday: Spring Weather at Last
April 5, 2005

- Livonia increased their record to one win one loss with a thrilling 11-10 sudden victory double overtime win over Bath at Saunders field. The winning goal was scored on an isolation play by senior midfielder Josh Hendrickson with 2:27 left in the second overtime period. After several lead changes Livonia's junior midfielder Chad Britton, who won 9 of 14 face offs for the bulldogs, scored the game tying goal with .46 seconds left with a hard underhand shot and an assist from sophomore attackman Brian Sciera.

Scoring for Livonia were senior middie Shawn Wright (4g), junior attackman Scott Mosher (1g- 3a), senior midfielder Josh Hendrickson (2g-1a) , junior attackman John Dalberth (2g-1a). Adding goals were Shawn Mulcahy, Britton and Adam Schaible and Sciera added assists each. Hendrickson led the team in ground balls with 11. Junior goalie Aaron Jamison recorded 20 saves for the Bulldogs.

Bath's scoring leaders were senior middies Ryan Finney (4g) and Jeremy Sutfin (3g-2a), senior attackman Liam Glover (2g 2a) and junior attackman Zac Conrad (1g) .


Irondequoit won the home contest again Rush-Henrietta, 11-5 after taking an early 5-0 first quarter and 9-2 half. The Eagles out shot R-H 39-20. Scoring for Irondequoit were senior midfielders Sean Doyle (2g-1a), Cory Bottiglier (2g-1a) and
senior middie Zack Pixley (1g) along with junior attackmen Derek Pino (2g-3a)
and Joe Parker (2g). Junior middie Mickey Haight (1g-1a), freshman attackman Greg Wright (1g) and senior middie Aaron Bottazzo (1a) finished out the scorebook while sophomore goalie Zach Nash recorded 5 saves for Irondequoit (2-1).

Scoring for R-H were sophomore attackman Matt Moran (2g), junior midfielder Tim Barth (2g) and sophomore attackman Brian Hantzis (1g, 2a). Senior middie Nick Garnier and junior middie Tony Henriquez each added assists. Senior goalie James Lally made 13 saves while sophomore defenseman Jake Messimer and senior defenseman AJ Lalonde led the ground ball effort with four each for the royal Comets (0-2).


Pittsford was the winner over Webster Thomas 14-6 after scoring the first five goals by five different players before Thomas saw its first goal, by sophomore attackman Brendon Rothfuss who scored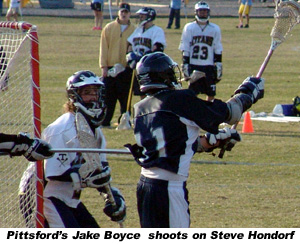 with 22 seconds left in the 1st quarter. In the second quarter Rothfuss scored again for Thomas and senior attackman Jake Boyce scored his second goal to end the half with Pittsford up 6-2. In the second half the Panthers scored took an 8-2 lead before Rothfuss scored his third and sophomore attackman Dom Scalzo scored a behind the back shot at the 4:41 mark to make the score 10-4 for the Panthers.

Boyce ended the game with 3g-4a for Pittsford. Also scoring for the Panthers were senior middie Dylan Bittlingmaier, junior attackmen JJ Postel and Joe Peckich, senior attackman Justin Rand, junior middies Mike Peacock and Greg Gans and sophomore middie Doug Johnson. Pittsford's strong defensive play was lead by senior Matt Reganbogen and junior Matt Petrillo.

Rothfuss finished the game with 4g, while Scalzo and junior middie Kurt DetWiller added one goal each for Thomas (0-2).

No report from Pittsford.




Waterloo won the Finger Lakes match up with host Midlakes 13-1 behind scoring leaders junior attackman Winston Boyd (3g-3a), senior attackman Gordy Lahr (2g-2a), sophomore middie Josh Mateo (2g-1a) and senior midfielder TJ Radka (1g-2a). Senior goalie Pat DeBolt had 4 saves for the Indians (3-0).

No report from Midlakes.
It was an easy victory for HF-L as they beat host Greece 19-2 with a shooting margin of 28-8. Fifteen of the Cougar's goals were assisted (79%) as seven different players hit the books. Scoring for the Cougars were senior middies David Uzialko (6g-1a) and John Cintineo (1g-1a), senior attackmen Mike Cintineo (4g-4a) and Jeff Price (2g-4a), junior defenseman Connor Burgasser (3g), junior middie Dan Layfield (2g-1a) and freshman middie Cade Norris (1g-4a). Senior middie Kevin Marfioti won 8 of 8 Face-offs and senior goalies Mike Brisbane (4s) and Will Fargo (2s) split time in the goal for HF-L (3-0).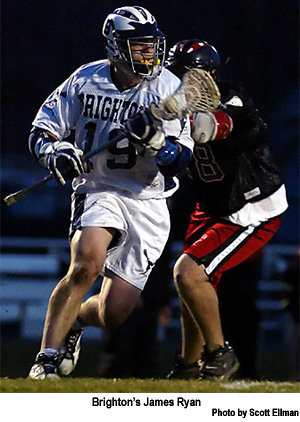 Senior midfielder Mike Kemp and sophomore attackman Matthew Machucki scored goals for the Thunder while junior attackman Dave Rodrigues and senior attackman Joe Hallowell added assists. Senior goalie Orlando Villegas recorded 8 saves for Greece (1-2).


Host Spencerport was the winner 9-5 over Gates Chili as junior attackman Rob Stojanov scored 4 goals for the Rangers. After a 4-4 halftime tie, Spencerport outscored the Spartans 5-1 and won their first Varsity game. No report from Gates Chili.


Senior attackman James Ryan scored 3g-4a and fellow senior attackman Mike Ryerson added 4g-1a for the Barons (2-0) as they defeated Hilton 12-2 at Brighton. The Barons senior goalie Mike Katz had the shutout during his three quarters in the goal. Freshman middie Colin Walker and freshman attackman Mitch Ritchie scored for Hilton (1-1). No reports from Brighton or Hilton.


Junior attackman David Schmandt scored 4g-2a and junior middie Pat King added 2g-5a for the host Aquinas (1-1) as they defeated Mynderse 13-5. No reports from Aquinas or Mynderse.


It was Eastridge over Churchville-Chili 15-4 as junior middie Sean Sawyer had a career high with 5g-5a for the host Lancers (1-1).No reports from Eastridge or Churchville-Chili.


In spite of a number of exciting runs by the Warriors, Penfield was the winner 11-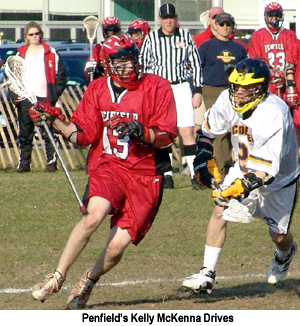 7 at Webster's DeWitt school. The Patriots took a 3-0 first quarter lead and led at the half 8-3 with scoring leaders junior midfielder Kelly McKenna who scored 4g-1a, senior middie Mike Thon who added 3g-3a and senior attackman Trevor Rice who scored 2g-1a. Also contributing were senior attackmen Jason Knerr (2g-1a) and Tim Pfeffer (1g) and junior midfielder Mike Arvan (2a). Junior goalie Brain Dell recorded 9 saves for the Patriots (2-0).

Senior attackman Jack Mooney scored 4g for the Warriors who also saw goals from senior attackman Tom Costanza (1g-1a), senior middie Mike Catalino (1g-1a) and sophomore middie Mike Barilla (1g). Catalino won 8 or 15 face offs and junior goalie Dennis Costanza made 10 saves for Schroeder (1-2).


Canandaigua won their season opener with an 11-6 win over visiting Geneva. Senior middie Dan Groot had 4g-1a and senior attackman Chris Mulheron added 1g-2a for the Braves (1-0). Senior attackman Kyle Wakefield scored 2g while senior middies Brian Hadsell and Nick Boylan each added 1g-1a. Junior goalie Dan Serafine recorded 10 saves and left the game for the last three minutes, allowing senior goalie Billy Thomson to finish the game with two saves for the Braves (1-0).

Said Coach Johnson to The Finger Lakes Times, "We moved the ball well and that made some good opportunities," Johnson said of his team's 11-6 victory. "But there were some passes missed. The ball was on the ground a lot today, but it was the first game for everyone."

Senior attackman Mike Toner scored 2g, and junior middie Mark Bloom, senior middies Henry Heaton, John Warner and Jake Queener each had one goal for Geneva (0-1). No report from Canandaigua.