Wednesday: Penn Yan Out Bracket
May 26, 2010

-

The Mustangs won the last out bracket game in the tournaments with their win against Bishop Kearney 22-1 tonight in Penn Yan.

Penn Yan 22 - Bishop Kearney 1

| | | |
| --- | --- | --- |
| | Wed - May 26, 2010 - 7:00 PM | |
Sect 5 Out Bracket
at Penn Yan
1st
2nd
3rd
4th
OT
Tot
Penn Yan


Record: 9-8

14
5
1
2
0
22
Bishop Kearney


Record: 0-14

0
1
0
0
0
1

The book for Penn Yan: JJ Voigt (2g), Scott Miller (1g), Anthony Luppino (1g), Adam Stork (2a), Jamil Modafarri (2g-1a), Brett McMichael (1g-1a), Bradley Voigt (2g-2a), Ryan Maciejewski (1a), Connor Cincotta (2g), Nate Nichols (2g), Chris McMillan (1g-2a), Preston Maciejewski (4g-4a), Tim Yetter (1g), Dylan Yonts (3g-3a), Goaltending: Brandon Maciejewski 1s/1ga = 50% (24 mins), Matt Spoor 1s/0ga = 100% (24 mins)

The book for Bishop Kearney: No report from Bishop Kearney.

-- The Mustangs won their out bracket game against Bishop Kearney 22-1 tonight in Penn Yan.
In the final outbracket game to be played in this year's tournament, second seeded Penn Yan jumped on fifteenth seeded Bishop Kearney early and often at Mustang Field on a summer-like evening. 2010 was the first varsity season in a long time for the Kings and despite Bishop Kearney goalie Andrew Clarkowski making ten saves in the first quarter, the Mustangs netted 14 goals, several within seconds of each other. Penn Yan led after the first twelve minutes 14 - 0.
Bishop Kearney got on the board seven seconds into the second quarter when they won the opening face off and took it right down the field and fired a shot that beat eighth grade goalie Brandon Maciejewski for, what would be, the Kings sole goal of the game. Penn Yan added five more goals before subbing everyone in and running out the clock by playing keep away for the six plus minutes prior to the half time break.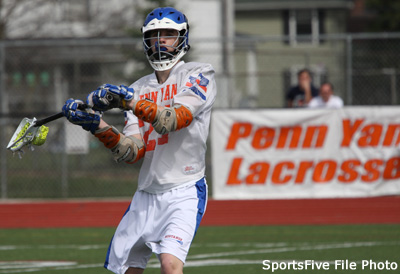 The second half began with running time and saw Penn Yan, once again, take time of the clock by moving the ball around the offensive end a number of times before giving it up. Penn Yan scored the lone goal of the third and the score was 20-1 after three quarters. Again, The Mustangs controlled the ball in the fourth by passing it around. They did take a few shots in the fourth, two of which found the back of the net. When the final horn sounded, it was PY by the score of 22-1.
Offensively, the Mustangs were led by senior Preston Maciejewski who tallied eight points, junior Dylan Yonts who added six and 8th grader Bradley Voigt who added to his impressive totals on the year by putting up four points. At the face off "X", Penn Yan was dominant winning 18/26 with six different Mustangs sharing face off duties. In goal, 8th grader Brandon Maciejewski got the start and recorded one save with one goal against in his 24 minutes of play. Sophomore Matt Spoor played the final 24 minutes in the pipes for Penn Yan and made one save while not allowing a goal. Leading Penn Yan in ground balls were Preston Maciejewski (7), Anthony Luppino (6), and Scott Miller (5).
Next up, for the Mustangs (#2), their quarter final game, hosting Livonia (#7) on Friday.